Teachers in Wales are a class act, says Education Minister Kirsty Williams
The Minister for Education, Kirsty Williams, has been travelling across Wales over the past few weeks, hearing from trainee teachers what attracted them to a career at the front of the classroom. Her latest stop saw her visit Bangor University recently, where she met with staff members and students from the School of Education and Human Development and held a Q&A session on the Welsh Government's latest recruitment campaign for teaching, Teach in Wales.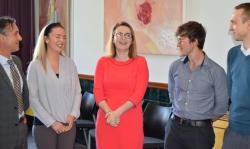 Education Minister, Kirsty Williams, with staff and students from the School of Education and Human Development

The digital campaign is targeted at graduates identified as most likely to go into teaching, including existing teaching assistants, people considering a change of career and Welsh-speaking undergraduates studying priority subjects.
One of the case studies featured in the campaign centres on the experiences of a Bangor University student, Vicky Williams, currently undertaking a Biology PGCE course at the School of Education and Human Development. Originally from Durham and a member of the traveller community, she is now a confident Welsh speaker and is looking forward to standing in front of a classroom of pupils.
Vicky said:
"I came to Bangor originally to study sport, health and physical education. It's not that usual for members of traveller families to follow an academic career, so I'm probably quite unique in that I've come this far, but I just enjoy it so much.
After I graduated I wasn't too sure about what I wanted to do next. I worked for a while as a part time slimming consultant, which definitely gave me greater confidence as I had to stand in front of people and present information and help them. I think that helped me decide to become a teacher, because I really enjoyed using those skills.
I went back to university, but this time to do a PGCE course. I'm fortunate to be able to do my training course at Bangor University because I had already fallen in love with the area as a student the first time round, so I knew it's where I'd want to start my teaching career.
I feel strongly that children and young people should have the best experience possible in school, to help them in later life, and I want to transfer my passion for my subject to them - especially other female students. Research shows there is a link between children studying scientific subjects if the mother in the household is scientifically minded, and I have an aspiration to get families involved in science so it becomes more of a natural development for the young people and not such a 'scary' subject."
Speaking with Bangor University staff and students during her visit, Education Secretary, Kirsty Williams said:
"I'm really glad to come to Bangor and meet some of the next generation of teachers doing their Initial Teacher Education at the University – their unbridled enthusiasm is a pleasure to see! As Minister for Education, it's also really valuable to me to listen to trainee teachers and find out first-hand what drew them to the profession.
"It's an exciting time to be a teacher in Wales. I'd encourage anyone considering a career in teaching to have a look at the opportunities available, to see if you've got what it takes to succeed in this hugely rewarding career."
With financial incentives available from the Welsh Government and places available at teacher education providers across Wales, there is still time to consider teacher training in North Wales this year, provided by the innovative CaBan partnership.
Publication date: 7 June 2019