The Ugly Foods Shop pop up success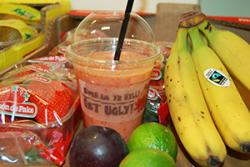 'The Ugly Foods Shop' managed and run by Bangor University students for the last four weeks has been a great success. The enterprising team of students exercised their creativity and business acumen to test trade their idea in collaboration with Bangor City Council. The team sold fruit and vegetables which do not meet the conventional beauty standards required to allow them entry onto supermarket shelves because of their size or irregular appearance but that are perfectly wholesome in other respects. The shop offered customers the chance to save them from landfill and buy at a cheaper price than from conventional retailers. Goods on offer included 'Soup in a Sack' and freshly made smoothies as well as loose fruit and vegetables.
The shop brought a new lease of life to Bangor's Deiniol Shopping Centre as well as allowing students to develop vital enterprise and employability skills that will be invaluable in the world of work. Skills developed were not limited to things like pricing and selling but a whole range of other commercial skills such as team working, problem-solving, customer service and marketing to name but a few.
Gwyn Hughes, Town Clerk, Bangor City Council said: " As part of our on-going initiative to re-generate the High Street, we are delighted to be working closely with Bangor University on innovative ideas to offer shoppers in the city centre a different experience to what they can get elsewhere."
The response from customers of the shop was very positive and due to popular demand it is planned for the shop to re-open its doors in September 2015 with students looking forward to developing the Ugly Foods brand even further.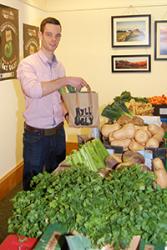 Dan Taylor prepares some 'soup in a bag' bags for sale.Dan Taylor, an MRes student from the School of Psychology who managed the shop said of the experience "The ugly foods shop has taught me of the potential to become an entrepreneur in the future. I've learnt so much throughout the process, from being able to create a business from an initial idea to actually implementing it and being in charge of staff. It has been a really worthwhile experience and great to be able to be involved in a venture which seems to have been able to meet a need in the community."
Dan and Rhi Wilmott, also from the School of Psychology were invited to have an Ugly Foods Shop stand at the recent Procurement Week conference in Cardiff and also presented at the Santander University Entrepreneurial Awards held at the University recently.
Matt Lobo, an undergraduate student from the School of Law who was employed as a retail assistant at the shop said "It's been great learning how a business is run, the expertise required by a business owner, and from working in the business day-to-day. I've picked up lots of skills that are transferable into many other aspects of work and daily life"
Emma Cheeseman, a 2nd year Product Design students said "Working at the Ugly Food Shop has given me an insight into all the background work that goes on whilst running a business, from deliveries to accounting. It has also given me my first involvement in running a team and has been an excellent experience."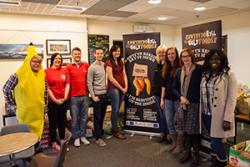 Diane Roberts and Aaron Owen, the Santander Universities team at Bangor University took a great interest and met the team: Peter Helsby (as a banana); Dan Taylor, Kate Isherwood, Emma Cheeseman, Zoe Griffiths, Lowri Owen & Bukola Adetonwa.The B-Enterprising team who helped to coordinate this venture are very grateful to Bangor City Council for extending this opportunity to students of Bangor University and to the Welsh Government for helping to fund it.
Lowri Owen from the B-Enterprising Project said "The funding has allowed the students to experience what it is like to develop and idea and run it as an actual business for a month. It has been a huge learning experience for all involved and one that will hopefully help to equip the students with the enterprise and employability skills they can use in the future."
Bangor University's B-Enterprising programme is supported by funding from the Welsh Government's North West Wales Hub which is part funded by the European Regional Development Fund and the Welsh Government to support delivery of the Youth Entrepreneurship Strategy (YES) for Wales.
Anyone wishing to contact the Ugly Foods team can visit their Facebook page: theuglyfoodsshop
Publication date: 30 March 2015