Welsh learners to have new 'app' this autumn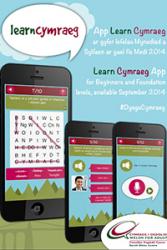 As Welsh learners head to the classroom for a new term of Welsh lessons this autumn, whether absolute beginners, or returners, they'll be pleased to hear that there will soon to be a new 'app' especially for them.
The North Wales Welsh for Adults Centre at Bangor University are working in partnership with Moilin-Optimwm to develop the Welsh Language Learning App for Beginners and Foundation levels. The app will be launched in September, and will include 19 interactive templates, divided into 44 units.
The app was tested during the National Eisteddfod in Llanelli recently and was very well received. Learners on the Eisteddfod 'Maes' enjoyed testing some of the app's templates, such as fill in the blanks, pairing a word with an image, structuring a dialogue, practising pronunciation and recording their own voice. In response to the pronunciation template, a learner trialling the app said:
"I really liked this activity. This is what I need to be able to hear how it's said and then practise. Speaking and hearing like this is ideal."
The Entry Level app will be available at the end of September and the Foundation Level version will follow in December.
The app will also be looked at as part of a PhD research looking at the possibility of recreating classroom interaction electronically in a Welsh For Adults context. The research will be conducted by Lowri Mair Jones under the supervision of Dr Enlli Thomas, School of Education. Dr Enlli Thomas said,
"This kind of development is essential in the technological world we now live in, and allows learners to engage with the language in a variety of ways, outside of the formal classroom, in ways that were not possible until recently."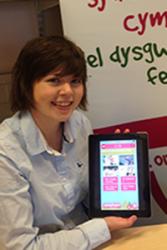 Lowri Mair Jones shows the app under development on a tablet.Talking about the testing phase in the Eisteddfod Lowri Mair Jones said,
"This first testing phase went very well. We received excellent, constructive feedback. I'm now very excited to launch the app and to start collecting the research data. There isn't an app for learning Welsh with this level of interaction at the moment. I really hope that we're developing something that will be a very valuable resource to Welsh learners."
The app will be available to download for Apple and Android devices from the end of September, and the Welsh For Adults Centre will be looking for learners to participate in the research, trialling the app, and other forms of learning technologies. If you are interested in being part of the research, e-mail lowri.m.jones@bangor.ac.uk.
Bangor University has developed a structured and effective programme for adult learners of Welsh, and the range of courses are delivered across north Wales on behalf of the North Wales Welsh for Adults Centre.
Tens of thousands of students have benefited from the combination of carefully graded courses, highly experienced and committed tutors and first class back-up services. The majority of courses begin towards the end of September. For more information, advice or guidance as to the most appropriate level for you, call 01248 382752.
Publication date: 19 August 2014