Nuclear Futures Institute
Bangor University is developing a world leading capability in nuclear science and engineering, the focal point of which is the Nuclear Futures Institute. This will establish North Wales as a global centre, delivering international partnerships and opportunities from a rich mix of existing and new talent in support of the local and regional economy.
With nuclear decommissioning and nuclear new-build projects on its doorstep, and an increasing number of businesses from the nuclear supply chain becoming active in the area, the University is focussing on existing and emerging nuclear power generation technologies including Pressurised Water Reactors (PWR), (Advanced) Boiling Water Reactors ((A)BWR) and Small Modular Reactors (SMR).
Already, Bangor University and Imperial College London, with Hitachi-GE providing technical expertise and support, have established a joint "Boiling Water Reactor (BWR) Research Hub and Network". The Network brings together the UK research base with Hitachi's nuclear researchers to help develop future generations of Boiling Water Reactor technology.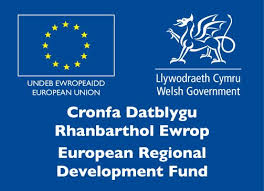 EU Funds: Investing in Wales
Nuclear expertise and academic capacity at Bangor University is expanding rapidly with the appointment of international research 'stars', plus their supporting research teams, funded by the Welsh Government's Sêr Cymru programme and the European Regional Development Fund.
At a broader level, Bangor University is also developing a number of highly ambitious projects in the wider energy sector with a focus on sustainable and secure energy supplies for the future.
Together, these initiatives will establish North Wales as a global centre of expertise, helping to develop a new generation of scientists and engineers to tackle the urgent need for low carbon energy and energy security around the world.
Find out more on the Nuclear Futures Institute website.