From UMCB and JMJ to the BBC – university experience is the perfect training for Liam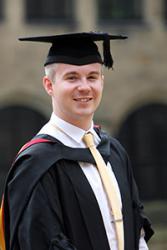 Liam EvansBBC Radio Cymru listeners may have heard a new voice reporting news stories from north-east Wales recently. Liam John Evans, 21 and from Old Colwyn, is now a journalist with the national station, despite him not yet having received his BA degree in Welsh and History - an event that will surely be the day's top story for his family and friends on Tuesday morning, 17 July.
According to Liam, a former pupil of Ysgol Bod Alaw and Ysgol y Creuddyn, Bangor was a natural choice for him. He said:
"I knew that Bangor was the institution with the best academic schools for the subjects I wanted to study and, on top of that, it is a beautiful place with the best Welsh-language culture in Wales."
Liam is this year's recipient of the Blanche Elwy Hughes Memorial Prize, an award given to the best student in the subject of Welsh History. As well as working towards his academic successes, Liam took advantage of the many extra-curricular activities available here for students. He led Aelwyd JMJ's Women's Choir for two years, has been a member of several sports teams and also took advantage of a period of internship with the University – activities that strengthened his communication skills and contributed to him securing his current job. Liam said:
"The new post with BBC Radio Cymru means that I spend a lot of time out in the communities of the north-east meeting people and working on stories and, without a doubt, leading the choir and volunteering with UMCB has given me the confidence to present and speak in public. The internship was also a great opportunity to meet different people, develop communication skills and gain valuable professional experience."
Publication date: 17 July 2018