The power of music driving Alistair's achievements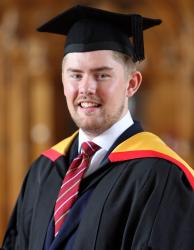 Alistair O'MahoneyFor Alistair O'Mahoney, 21, from Neath, choosing to study Music at university was a natural step. Raised in a musical family, he received piano lessons from an early age and was also a member of his county's brass band, playing at one of the greatest First World War monuments, the Menin Gate, on the site of the Ypres battlefield, during one tour abroad with the band.
Alongside this obvious passion for music, however, was a lifelong interest in health - an interest that almost became a real desire to pursue a medical career. But, with blood obviously thicker than (sterile) water, Alistair settled on studying Music at Bangor. Three years on, he is graduating with a BMus degree and a large repertoire of experiences, including leading the JMJ Aelwyd ladies choir to remarkable successes at the 2019 Urdd Eisteddfod and winning the Musician's Trophy at the Inter-college Eisteddfod three times.
The early interest in health did not disappear altogether though and Alistair took advantage of the University's internship program to work with the School of Health Sciences on the Cân y Gân project - a scheme that seeks to create a musical resource for people living with dementia. Following a public request for songs, Alistair received 600 nominations and the next step was to place a selection of those songs on CD. The final aim of the scheme is to distribute the CDs to private dementia care homes across Wales.
Discussing the experience of working on the project, Alistair said:
'Being able to share my understanding of the field in order to create a resource that would positively affect the lives of many people was very valuable and was an experience that led to me writing my dissertation on the use of music in dementia therapies.'
Brought up in a non-Welsh speaking household, the University's Welsh medium provision - and the Welsh culture found in Neuadd JMJ - was a great draw for Alistair, and the experiences he had in leading choirs, chairing various societies and volunteering in local schools crowned a special three years.
Continuing his research into music in health and well-being, Alistair will be returning to Bangor University in September to follow an MA in Music.
Related Stories:
A successful 2019 Urdd National Eisteddfod for Aelwyd JMJ
Ensuring access to Welsh Music for people living with dementia
Music set to bring comfort to Welsh speakers living with dementia
Publication date: 18 July 2019