Bangor University Healthcare students spread Christmas cheer to patients
Student nurses across both of The School of Healthcare Sciences sites will be bringing some additional Christmas cheer to patients at Wrexham Maelor Hospital, Ysbyty Gwynedd and Ysbyty Glan Clwyd again this year.
Students, members of the public and staff have been donating gifts and packing them into shoeboxes and wrapping them to be taken to wards for patients who will be in hospital over the Christmas period, some of whom may not otherwise receive any visitors or gifts.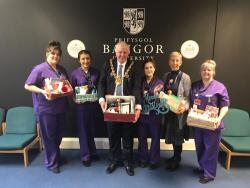 The gifts, which have all been approved by the ward, are a range of Christmas treats including toiletries, art supplies, scarves and socks.
The initial idea came after Ceri, a third year student nurse at Bangor's Wrexham Campus who was moved by patients without family to visit them during her time on the ward during Christmas 2015.
She said: "I was on placement at the Maelor over Christmas, and saw patients who didn't have any family who were missing out on company. "Knowing we made a difference last year made us realise that small acts of generosity can mean so much to others who are less fortunate.
"The nurses work really hard to make patients who don't have anyone else feel valued at this time of year, and hopefully this will just help reinforce that further."
The Mayor and Mayoress of Wrexham, Cllr John and Ann Pritchard, visited Bangor University's Wrexham campus recently to make their own donations to the appeal.
Cllr Pritchard said: "It was a very good visit and they were pleased to see us. They do work very hard because they do this in their spare time, but they study too. Their gifts certainly cheer up patients."
Angela Williams, lecturer in adult nursing at Bangor University's Wrexham Campus, said: "The students are making an impact on people's lives. They are a credit to the university as well as to the whole community. This demonstrates their kind, caring and generous nature."
Alison Lester Owen, Adult Nursing Lecturer at the Bangor campus said "Following on from the success of Ceri's idea at Wrexham I'm delighted our Bangor based students are now involved too. This has been a wonderful example of team work and generosity, and is in my view typical of what I have learned to expect from our fabulous students. We are proud to be working with all our students, and privileged to be part of their team."
Nursing student Sean Bray, one of many involved in the Bangor campus said 'This appeal has proven to me that an act of kindness can bring people together to share their generosity, compassion and team work so that a little happiness can be brought to those who could potentially have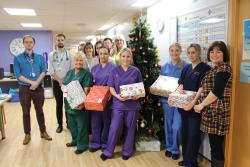 nothing over the holidays, reminding patients that they are important to us.''
Teleri Roberts, organiser of the Bangor Campus collection, said "Wrexham campus have run the presents for patients for the past two years delivering to wards in the Maelor hospital and this year I was asked to take part by collecting donations for selected wards in both Ysbysy Gwynedd and Ysbyty Glan Clwyd. We hope by giving a little to those who are spending the holidays in hospital we can bring some joy and Christmas cheer at a time that is particularly difficult to be away from loved ones and familiar surroundings."
The students have now begun delivering the shoeboxes to the wards for distribution over the Christmas period.
Bangor University would also like to thank Matalan Bangor, Aldi Bangor and B&M Bangor for donating gifts towards this collection.
Publication date: 12 December 2017