The Innovations and Celebration of District Nursing (East)
The School of Healthcare Science's Wrexham campus hosted The Innovations and Celebration of District Nursing (East) Event.
The event was attended by ninety two Community Nurses from Wrexham and Flintshire District Nursing services and student nurses.
The day showcased a range of examples of innovations and best practices which are currently being developed by District Nursing teams in the East area of BCUHB.
Projects highlighted on the day included: making a difference in practice, supporting skills development and supporting patient care in challenging environments.
Each project team hosted their own stall, sharing information and encouraging networking opportunities for their colleagues and students.
The keynote speaker of the event was Thomas Whitelaw who spoke of caring for his mother who suffered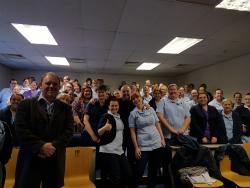 with dementia.
Whitelaw's talk was video linked to the Bangor campus, where students and staff based in Fron Heulog were also able to watch.
Thomas Whitelaw, who is very active on social media tweeted this comment about the event, from his Twitter handle @tommyNtour:
"Thank you to all at community nurse innovations conference and Bangor Nursing Society @SHSBangor @BangorNursing for the most wonderful day. Thank you. Tommy #Kindness #TheKindnessOfPeople #YouCanmakeadifference #BeThatNurse"
Jayne Sankey, Lead Nurse, East Area Community Nursing Services, was heavily involved in the organisation of the event said "The Innovations event was a huge success, with 92 community nurses from Wrexham and Flintshire District Nursing services in attendance.
"There was a real buzz of excitement and celebration as we looked at key themes relating to District Nursing practice, for our current services and also for the future.
"Tommy stated in his presentation that 'we were celebrating the best profession ever invented', and for me that encapsulates the whole event. The event demonstrated what is so excellent and fundamentally holistic about nursing patients in their own homes and communities. I count it a privilege to have led the service."
Fern Williams, SHS Nursing Student, said "Hearing Tommy talk so passionately about dementia and the nursing care his mother Joan received was inspirational to us all as student nurses. Listening to him talk has helped to make us think and to ask 'What Matters To You?'
Tommy shared with us the idea of a pledge tree. Which in the New Year, we will set up in our university campus."
Publication date: 19 December 2017