Mooting
Mooting is an activity in which law students argue a fictitious legal case within simulated court proceedings. Two pairs of advocates – the Appellants and Respondents – contest the case in front of a 'judge' (normally a lecturer or postgraduate student). The winning team is not necessarily the one that wins the case, but the team that makes the best presentation of their legal arguments.
Why moot?
Mooting is a useful supplement to a law degree as it demonstrates to students how legal knowledge may be applied in real life. It provides a platform for developing analytical, interpretational and legal skills, and may also assist students in enhancing their confidence in public speaking, researching, problem solving and delivering presentations. The legal profession is "an increasingly difficult one to enter [and] application forms for legal professional courses, solicitors' firms and barristers' chambers often demand that a candidate can provide evidence of their advocacy or mooting experience whilst at university" (Oxford University Press). We have responded to this call by affording students ample opportunities to gain practical mooting experiences.
Mooting at Bangor Law School
Since hosting the internationally prestigious European Law Moot Court Competition in 2009, Bangor Law School has developed one of the most active and successful mooting communities in Wales.
Over the years, we have substantially increased our investment in and provision of mooting. Today, we have ten internal moot competitions, regularly compete in eight national competitions and are associated with three international contests. We have fostered strong links with Caernarfon's Criminal Justice Centre, Manchester's Crown Court, Salford's Magistrates' Court, Manchester's Civil Justice Centre and a host of leading judges. In 2014, we opened a £25,000 replica courtroom on campus.
While mooting is now a core component of our 'Legal Skills' module, and an elective for Year Two students on the 'Advanced Mooting and Legal Ethics' course, it is also a voluntary student-led activity organised by our Student Legal Advocacy Society.
Competitions
Today, our students are regular participants in competitions. Recent examples include:
Internal competitions

National competitions

International competitions

McLaren Criminal Law Moot
Cwpan Griffiths Welsh Moot (Welsh Language)
Exceptional Advocate Award (English and Welsh Language)
Bangor University Law School Moot (BULSM)
Legal Skills First Year Moot (English and Welsh Language)
JustCite Most Improved Advocate Award
Owen Equity and Trusts Moot
McDermott 24 Hour Tort Law Moot
Bangor University's Talent Opportunities (TOP) Mooting (English and Welsh Language)
Bangor Law School's Legal English Summer School Moot

Oxford University Press Competition
Lexis Nexis Welsh National Moot
UKLSA Moot
NSLS Moot
NSLS E-Moot
Coleg Cymraeg Cenedlaethol Welsh Moot (Welsh Language)
National Speed Mooting Competition
Varsity Moot Competition
Blackstone's National Criminal Advocacy Mock Trial Competition
The National Commercial and Maritime Law Competition

European Law Moot Court (Court of Justice of the European Union, Luxembourg) (English and French Language)
Telders International Law Moot Court (The Hague, The Netherlands)
K.K. Luthra Memorial Moot (New Delhi, India)
International Criminal Court (ICC) Moot Court Competition
Mooting Coordinator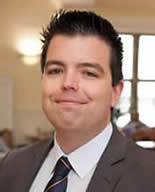 Stephen Clear is the School's Mooting Coordinator. He was responsible for the introduction of Bangor Law School's first internal competitions in 2008-2009, the McLaren Criminal Law Moot and Cwpan Griffiths Welsh Moot. He has since spearheaded the School's entry into several prestigious national and international competitions. As Module Leader for 'Legal Skills' and 'Advanced Mooting and Legal Ethics', he is currently responsible for the teaching of mooting at Bangor. Further afield, in 2015, Stephen co-coached, with Dr Yvonne McDermott Rees, Bangor's undergraduate team in their entry to the K.K. Luthra International Criminal Law Moot competition in New Delhi, India.