Student Profiles - Postgraduates
Mohammed Tahir Khorasanee, from Canada - 2 Year LLB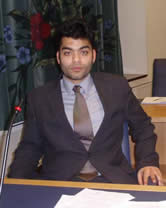 "The LLB programme allowed me to gain valuable theoretical and practical legal experience by exposing me to several national and international mooting competitions. I won the Bangor University Law School Moot Court Competition in 2013; was selected to represent Wales at the annual Telders Moot Court Competition at the International Court of Justice, Netherlands; and won the Mock Trial Competition at the Law School Job Fair.
The best thing about studying at Bangor was the one-to-one interaction I got from the faculty and the personalised approach of the law school. The school went above and beyond to give me the required critical thinking tools while preparing me for the professional world through an intense mooting programme.
I would certainly recommend Bangor to anyone who wants not only to gain the theoretical knowledge of law, but to also be a step ahead of other graduates by knowing the inner workings of the profession. During my time at the university, I was elected Treasurer for the Legal Advocacy Society; International Student Representative, Acting Treasurer and Graduate LLB Representative for the Law Society; and Student Representative for the Staff Student Committee. I was also a student assistant for the Bangor University International Law Conference."
Andrew Jones, from South Wales - LLM in International Law (specialising in International Human Rights and International Criminal Law)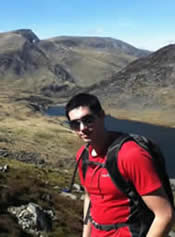 "I chose Bangor after visiting a friend who was studying here. I had very much enjoyed the city and the surrounding area, especially since I engage in a number of outdoor sports and activities. The university itself was very appealing due to its good name and reputation, and the course itself is quite unique in its speciality – most other universities I considered focussed only on international human rights. On top of this, Bangor Law School offered many other opportunities, such as participation in the prestigious Telders Moot Court Competition.
I studied my undergraduate degree at a much larger university, where I was used to larger classes and a less personal approach. Here at Bangor, I have felt much closer to my lecturers. The classes are smaller and there are real chances to engage with my learning and discuss topics and issues with colleagues.
The course has been infinitely better than I expected. The lecturers have been amazing and supportive throughout, and the ways in which classes are taught are engaging and innovative. The course takes a real commitment, but every second spent with my head in a book has been worth it.
After graduating, I will most likely pursue a career in the armed forces, hopefully utilising my skills in Humanitarian Law to find a law-based job within the services. I am also considering the Government Legal Service and possibly moving toward the Bar or LPC.
I feel that this course has given me the knowledge – and, more importantly, the ability – to continue with a career in law. I have developed so many skills during my short time here, such as time management, critical thinking, problem solving and legal reasoning. All these and more have given me a real feel for what I may face in the future and have made me much more prepared to tackle it head on."
Agnes Sentala, from Malawi - LLM in Law
Tell us why you chose Bangor…
Simply, the modules offered on Bangor's LLM degree were the ones of most interest to me. I found every module I studied to be and informative, not to mention highly relevant to my career ambitions. The Legal Research Methods module was a particular highlight, as I was able to apply what I learnt there to the rest of my modules.
As I would also be bringing my family with me to the UK, it was important for me to choose a university location that would offer easy access to services and centres such as academic facilities, churches, shops and recreational activities – Bangor was the perfect location for this. The proximity of everything made my whole family's time at Bangor easy and peaceful.
Since graduating from Bangor, what have you been up to?
Upon completing my LLM I returned to my previous job as a Legal Counsel for the Central Bank of Malawi. My work involves providing legal advice on a daily basis, and since studying for my Masters, I find this much easier. I can see the difference in terms of my approach to my work as well as my application of analytical and research skills. The knowledge that I have gained has enabled me to provide sound legal advice whenever I am asked.
What are your ambitions for the future?
I plan to study for a PhD. Bangor has made me realise my potential and I now have the confidence to go to greater heights. The phrase 'the sky is the limit' now means something to me.
Bsher Altaher, from Libya – LLM in International Law
Why Bangor?
I chose to study at Bangor because of the location - the university has such a beautiful campus and everything is really close by. The Law school is located in an ideal place with nice views of the Menai Straits on one side and the Snowdonia mountains on the other.  
Tell us about the LLM in International Law…
The lecturers are all experts in their fields and very experienced, and therefore able to give good guidance to students. Students gain a lot of experience through practical tasks and related field trips. The use of modern techniques and up-to-date teaching materials mark Bangor out from the rest of the competition. I would also add that the overall student experience offered by Bangor makes the study experience all the more rewarding.
What distinguishes Bangor from other universities?
What makes Bangor different is that the Law School is built up of a concentrated number of highly dedicated courses – International Law is just one of them. There is a close-knit community of law students across all years, and getting to know your teachers, classmates is easy. This means you always have someone – whether it is a classmate or a member of staff – to approach if you have a problem.
Studying at Bangor Law School has given me a lot of unique opportunities, enriched my knowledge and helped me develop in a way that no other School possibly could. Not only have I made great friends along the way, but I have had the opportunity to learn from everyone in the School (the teachers especially) and I've enjoyed every class. The lecturers' passion for their subjects is contagious. I would definitely recommend this programme to any student wanting a challenging and rewarding Masters and career.
(Bsher is pictured above right with guest lecturer Mr Paul Harris S.C., who visited Bangor Law School in 2012)
Taiwo Fadairo, from Nigeria - LLM in International Law
"The LLM in International Law programme offers more than you'd imagine, and is truly the complete package for anyone wanting to study this particular field further.
Bangor Law School has it all: quality lecturers who are happy to interact directly with the students; compelling, motivating lectures (the most interesting lectures I have ever attended); and a study environment that is just perfect in every way. Bangor is not only situated in a fantastic location, but the people here are lovely and caring. Any uncertainties I may have had about coming to study here were put to rest once I arrived: no matter where you are from, you will be welcomed like a member of the family. I have been made to feel very much at home, and when the time comes to leave Bangor, I will miss it very much.
Staff throughout the School have been very supportive – no matter what issue you may have, they are willing to solve it for you and they encourage students to make the best of every opportunity that comes our way. The lecturers are adept at breaking topics down to the simplest level of understanding so that no-one is out of their depth, and real-life scenarios help bring the subjects to life.
Studying at Bangor has helped me discover a greater part of myself, and the discovery continues. From speaking to others, they seem to share the same view as me: at Bangor, there is invariably something to discover about yourself."
Elson Gaskin, from Barbados - MBA Banking and Law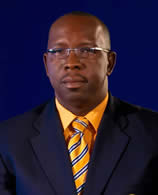 "The MBA in Banking and Law immediately appealed to me when I was researching postgraduate course online – it seemed the perfect course for me. It was an added bonus to find that the cost of living in Wales is lower than in many other parts of the UK.
The course deals with the traditional academic aspects of banking as well as contemporary practical issues, and takes a close look at the legal aspects of financial markets. Throughout, the lecturers have made the topic interesting and have been helpful, approachable and responsive. The non-academic staff have also been very accommodating.
After graduating, my plan is to return to Barbados and to find work there. I feel I will be returning with improved confidence and a better grounding in aspects of my organisation's work. I will miss the friendly people and student-orientated lifestyle of Bangor when I leave – it has been a great place to study."
Sammy Chilunga, from Malawi - MA in Banking and Law
Why Bangor?
Bangor's MA in Banking and Law is a unique programme that enables one to become an all-rounder in the fields of banking and law. My decision to come to Bangor was based on the fact that the programme met all the training needs of my current role as Bank Regulator with the Reserve Bank of Malawi. Most of the tools that Bankers and Bank Regulators use are based on law, thus banking can't be divorced from law!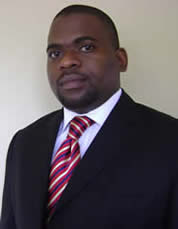 Tell us about Bangor and the Law School...
Bangor is steeped in a learning atmosphere – no wonder it is called the 'learning city'. The Law school is wonderful – it has a blend of experienced and innovative lecturers, who build and pitch their lectures based on current and emerging issues. Staff take into recognition the needs of the students, which is a very important factor.
What was the highlight of your course?
For me, a highlight of the course was the International Banking and Capital Markets Module. It was a challenge, and the lecturer kept us on our toes, bringing out the best in the students. This particular module has motivated me to study further and given me a research area for my PhD which I am currently studying.
Deepak Bagal, from India – LLM in International Commercial and Business Law
What's the best thing about your course?
For me, the best thing was that it gave me an opportunity to think, study, and analyse law from a wider (i.e. an international) perspective. Now that I'm working in the legal industry I feel that my degree is helping me to meet the needs of the global corporations in India – the second fastest developing country in the world – as well as bettering my growth prospects.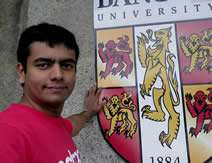 Tell us about the School…
Bangor has the best lecturers – they are co-operative, friendly and pro-active. Everyone in the School is friendly and there is opportunity to meet different nationalities. Best of all, I was able to study law from comparative, critical and international perspectives, which I feel has enhanced my future prospects.
What are your plans for the future?
I am currently working as a trainee at FoxMandal Little, one of India's leading Law firms. After gaining sufficient work experience I intend to obtain a PhD degree and then to set up my own business.
Yanbing Yin, from Inner Mongolia - LLM in International Commercial and Business Law
Why did you choose Bangor?
Bangor was recommended to me by an agency in Beijing, who praised its supportive student community and the friendly local residents.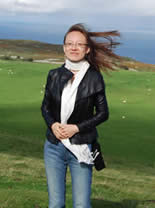 What was the best thing about your course?
The course is ideal for students who want to focus on the legal aspects of business or to work internationally. Modules such as Comparative Corporate Governance and International Banking Law offer a current and practical overview. The module on EU Internal Markets Law gives a great insight into the British legal systems and issues such as migration and trading within the European Commission – all of this I will be able to apply to my future career in China. Throughout my course I was also able to work on improving my writing skills and research methods.
What are you plans for the future?
My immediate plan is continue with further study and to find a part-time job in order to improve my spoken English and to gain experience of working in an English environment. Eventually I hope to work in Beijing and I feel that my time at Bangor, as well as my developed English skills, will give me a more competitive edge in the job market.
Mushtaque Ahmed Soomro, from Pakistan – LLM in Law
What was the best thing about studying at Bangor?
I really appreciate the way in which the staff at Bangor Law School helped all us students. We were all made to feel at home and their guidance made it so much easier to study those subjects that we had not encountered before.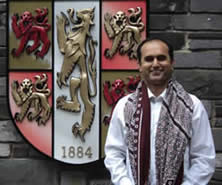 How did you find the course?
Having no academic background in, for example, banking and finance and the philosophy and the basis of public law, these subjects were initially very difficult for me. However, due to the kind and timely guidance of the staff, I not only came to understand these topics, but also developed a keen interest in them.
What are you doing now?
I am now employed as Director (Legal) in Enquiries & Anti-Corruption Establishment, Government of Sindh, Pakistan. I am proud to be able to say that I studied at Bangor Law School, and I put my career success down to the first-rate education I received there.
Chaynee Hodgetts - LLM Res in Law
Tell us about your undergraduate experience…
My time at Bangor began with an unusual start into Law, as my first year of undergraduate study was done with the School of Ocean Sciences, in BSc (Hons) Marine Vertebrate Zoology. I accompanied a friend to Law lectures, and quickly found a calling towards the challenges of the subject. I found Bangor Law School a warm and welcoming academic institution, with both students and staff from diverse and different backgrounds. I enrolled in the LLB Law degree, and graduated with a 2.1 (Hons).

Tell us about the progression to postgraduate study…
The dissertation option on the LLB provided invaluable insight into the research world, assisting my progress into the specialist subject of Marine Criminal Law. After this, I undertook the LLM Research Masters, further continuing the theme of my undergraduate research, achieving a Distinction.

What are you doing now?
Currently, I am working towards a PhD at the University of Portsmouth, again in Marine Criminal Law, while also working as a part-time Law Lecturer there, preparing various papers for submission, and recently joined Middle Temple Inns of Court. I hope to develop my research specialism in the years to come, in order to enhance maritime safety and law, and to clarify the application of criminal law to maritime cases. Had it not been for the support and initial inspiration provided at Bangor, this would never have been possible, and I would recommend any law student considering a future career in research to consider the expertise and academic support at Bangor Law School. It gave me a great start.
Amina Abubakar, from Nigeria - LLM in Law
Why Bangor?
A family friend recommended Bangor to me for its being a stress-free place to study. It's definitely that – it offers all the amenities you want in a city without the usual hustle and bustle. There is no place quite like Bangor!
Tell us about your course...
I studied the LLM in Law. I found the course to be a real eye-opener as it introduced me to the laws of multiple countries, including Sharia Law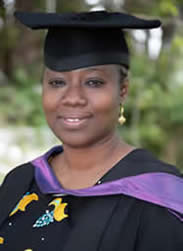 and English Common Law. The staff encourage research and they are ever ready to help students learn more about any subject. The attention from staff and their constructive feedback really aided me in undertaking my project on Corporate Social Responsibility under the Common Law and Sharia Law.
What was the highlight of your time at Bangor?
For me, the highlight of my course was the opportunity to meet fellow students from all over the world, and through them, to really learn about the law in their respective countries.
What are your plans for the future?
Following my graduation from Bangor, I am now working in the Economic Planning Department of the Federal Capital Development Administration in Nigeria. I will also be undertaking a placement where I can utilise my knowledge in Corporate Social Responsibility to sensitize organisations and individuals about Social Responsibility. I plan to embark on a PhD within the next few years.
Javier Zapata Frías, from Spain - LLM in Law
Why Bangor?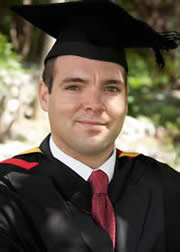 I choose Bangor after winning a scholarship to spend the training period of my undergraduate degree assisting a Bangor Law lecturer with his research on the process of devolution of powers in the UK and other European Member States. The experience was enough to make me want to return to Bangor to pursue a Masters degree, particularly as I knew that obtaining a postgraduate qualification from a respected British university would enhance my CV.
Tell us about the course...
The LLM in Law allowed me to gain a critical perspective of the positive and negative aspects of devolution in my home country, which I found to be very interesting. It also gave me a thorough insight into the English legal system, which is completely different to the Spanish system.
What's the best thing about Bangor Law School?
By far the best thing about Bangor Law School is the people working within it. The humanity of the lecturers made me see them not as people who were evaluating me, but as friends. Unlike the huge universities back home, you come to know everyone in Bangor, and the small class sizes means there is plenty of interaction between the students and the lecturers.
Tell us about life in Bangor...
Coming from a busy city like Barcelona, I found Bangor to be a peaceful and stress-free environment. The people are very friendly and you quickly feel at home, something which is very important to someone like me who is studying hundreds of miles from home. I cannot express in a few lines how much I will miss Bangor – the year and a half I spent here was truly the time of my life. I'll certainly miss the University atmosphere, the good friends I made here, the scenery and the fresh air.
What's next?
Following my Masters I have been working in Ernst & Young's Human Capital department, but I will soon be taking up a new position in the Law department of Monbus, one of Spain's biggest coach companies.
Asmau Mohammed Mai, from Nigeria - LLM in Law
Tell us about Bangor Law School...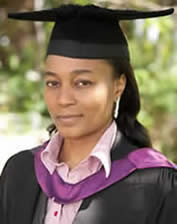 Bangor Law School has all the resources needed for high quality studies. Because it is a small School, the lecturers treat every student as an individual and you soon develop close-knit relationships with them. This friendly atmosphere really made me, as an International student, feel right at home.
What did you think of Bangor?
Bangor is a beautiful city and offers everything you could ever need, despite it being so compact and easy to get around. I will certainly miss all the friends I made here – students, lecturers, support staff and neighbours.
What are your plans now you've graduated?
I'm now back working in Nigeria, but I'm seriously contemplating returning to Bangor to undertake a PhD.
Roisin Ni Thuama, from Ireland - LLM in Law
Why choose Bangor?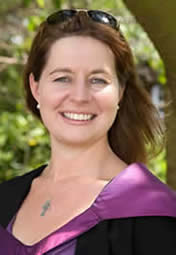 I chose Bangor Law School because the Head of School (Professor Dermot Cahill) is a leading expert in Corporate Finance Law, which is my particular field of interest. Amongst the best aspects of my course was the opportunity to attend a Competition Law conference held at the School. I had the chance to meet practitioners from all over the world whose expertise in this area is unrivalled. The whole experience was engaging, informative and stimulating.
What was the highlight of your course?
I can't single out one highlight of the course as there are so many! But as a student undertaking legal research, I must say that the fact that the Law School has its own dedicated Law Librarian (Mairwen Owen) was a huge positive. On one occasion I needed to get hold of a paper written by a Nobel Prize-winning Economist, but it seemed it had dropped out of circulation. I contacted Mairwen, who managed to get a copy directly from this extremely busy man. That really was an outstanding result.
Did you undertake your any placements during your course?
During my Masters I undertook a work placement with the Corporate Rescue department of a Law firm. Based on my dissertation, which looked at bonus structures in the world's financial centres, the firm has now asked me to re-structure their bonus scheme for a more equitable arrangement for fee earners, shareholders and the Company as a whole. I'll be doing this while undertaking my PhD here in Bangor.