Acclaimed Welsh Drama Society to be relaunched
Postgraduate students at the School of Welsh intend to re-launch an old Society, Cymdeithas y Ddrama Gymraeg (The Welsh Drama Society), established in Bangor in 1923 under the guidance of no less an eminence than the poet R.Williams Parry.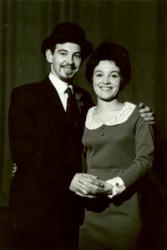 Acclaimed Welsh actors John Ogwen and Maureen Rhys during a student productionThe post-graduate students were keen to establish a drama society as a means of bringing the School's students together to extend the learning and social experience. Having made some enquiries, they discovered that such a Society existed in the University, but that it had lain dormant for a number of years. Having looked into the Society's history at the University Archive, the students discovered that the Drama Society had been a vibrant and successful group, and an intergral part of the Welsh community at the University, especially under the leadership of some of Wales' leading and most well-known literary and academic figures: R Williams Parry, Ifor Williams, Thomas Parry and John Gwilym Jones, who were also members of staff at the University's School of Welsh.
The Drama Society toured, and many of the students had the opportunity to perform on stages across Wales. Old performance programmes reveal that a good number of the students who were members of the Society went on to become became well known in their own right in time. In their midst are familiar names such as John Ogwen and Maureen Rhys, two of Bangor University's Honorary Fellows.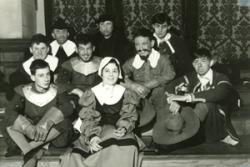 Another student production with John Ogwen, Maureen Rhys and others."This year we will be giving new life to the Society and intend to celebrate the finest of Welsh dram,the old and the new," said Diane Jones, one of the students behind the initiative who is currently researching plays written by the renowned author, Kate Roberts, for her PhD.
If you are interested in joining the Society, send a message to wep0a@bangor.ac.uk
Publication date: 8 October 2012