Archive of the Month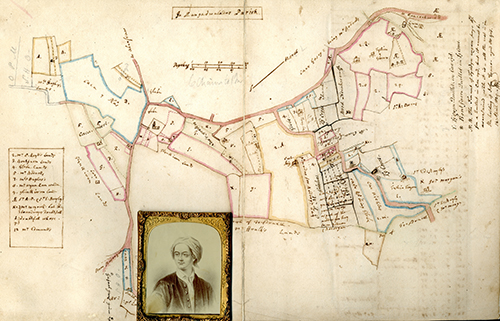 Survey of the Bodorgan estate made by Lewis Morris 1724-1727

Bodorgan 1579

Lewis Morris was a native of Anglesey and a member of the famous Morisiaid Môn family. In his twenties he had a practice as a land-surveyor and was commissioned in 1724 to survey the estate of Owen Meyrick of Bodorgan - this connection proved of great importance to him and to his brothers. In 1729 he was appointed 'searcher' to the Customs at Beaumaris and Holyhead, still retaining his private practice during his tenure until 1743 of that office. Through the influence of the Meyricks upon Thomas Corbett of the navy office, he was, from 1737, employed to make a survey of some of the Welsh ports. By 1742 Lewis Morris had moved to Cardiganshire to prospect for lead. He took part in several lead-mining ventures, dreaming always of a large fortune which was bound to come his way some day. It never did come, and when he died in 1765 he was far from being a rich man. He was buried inside the church of Llanbadarn Fawr, near the altar.

During November the 'Institute for the Study of Welsh Estates' will be launched at the University which will be dedicated to promoting information relating to landed estates in Wales through research, education and publications.

All images, photographs and documents appearing on this page are subject to copyright restrictions.

The Archives are responsible for the care and storage of the early College Records as well as our Archives Collections and General Collection of Bangor Manuscripts. All of these manuscript collections are bound by one common factor, their relevance to the history, people and topography of North Wales. However, their subject areas are wide ranging and are of national as well as local historical interest.

Publication date: 1 November 2013