Archive of the month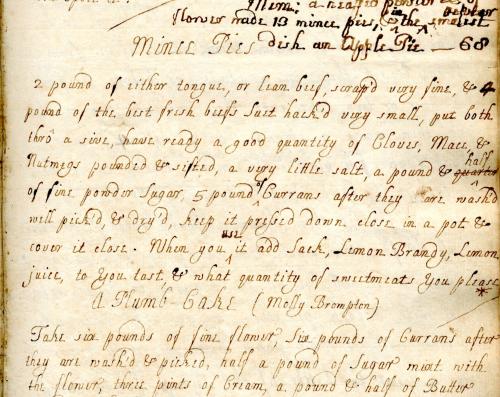 Mince pie recipe from the 18th century
There is no denying that the Christmas season has arrived, and we're certain that many of you have already tasted the odd mince pie already.
Did you know that, originally, mincemeat was made of a combination of meat, fruit and spices ?
Here is a recipe for mince pies which dates back to the 18th century from a manuscript in the Henblas collection. Tongue or lean beef and beef suet were amongst the ingredients.
The Archives are responsible for the care and storage of the early College Records as well as our Archives Collections and General Collection of Bangor Manuscripts. All of these manuscript collections are bound by one common factor, their relevance to the history, people and topography of North Wales. However, their subject areas are wide ranging and are of national as well as local historical interest.
All images, photographs and documents appearing on this page are subject to copyright restrictions.
Publication date: 2 December 2013