Archive of the month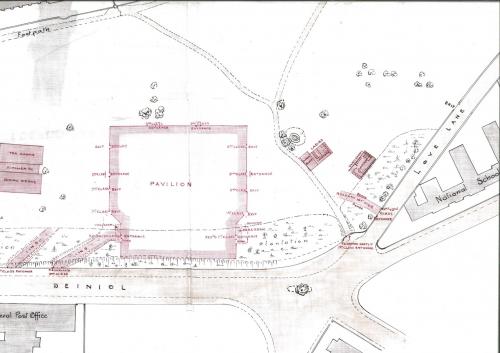 This is one of three plans of the 'Proposed Site of the Eisteddfod Pavilion, 1914,' held by the Archives and Special Collections (Bangor Ms. 13976). However, owing to the outbreak of the First World War, the National Eisteddfod was postponed from 1914 to 1915.
On the 5th August, 1915, the Chairing of the Bard ceremony took place and the Chancellor of the Exchequer, the Rt. Hon. D. Lloyd George was present.
Winner of the Chair was T.H. Parry Williams for his poem 'Eryri' (Snowdonia). In this year he also won the Eisteddfod Crown (an achievement he had already accomplished at the Wrexham National Eisteddfod in 1912).
Bangor University Archives are responsible for the care and storage of the early College Records as well as our Archives Collections and General Collection of Bangor Manuscripts. All of these manuscript collections are bound by one common factor, their relevance to the history, people and topography of North Wales. However, their subject areas are wide ranging and are of national as well as local historical interest.
Visit our website http://www.bangor.ac.uk/archives or our online catalogue http://calmview.bangor.ac.uk/Calmview for further information about our collections.
Publication date: 1 August 2015