Bangor leads pioneering project to change the face of Welsh-medium legal education
Bangor University Law School academics have succeeded in securing a strategic grant from the Coleg Cymraeg Cenedlaethol to lead an exciting, collaborative project. The aim is to publish a series of Welsh language textbooks for students who are studying Law in Wales, written by acknowledged specialists in their relevant fields.
Although students will be the main target for the publications, the books should be of interest to a much wider audience, as their aim is to explain basic legal principles in clear and accessible language. The project will also contribute towards establishing an agreed standardized legal terminology in Welsh and build up a Welsh Law library.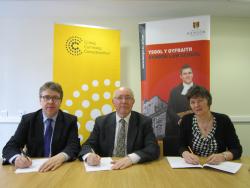 L-R: Head of School Prof. Dermot Cahill, author Keith Bush, and Project Manager Carys Aaron sign the contracts on 1 April 2014.
An Editorial Board of members with extensive legal experience has been appointed. Professor Thomas Watkin (chair of the Board), academics from each law school in Wales, a jurilinguist working for the Welsh Government, a member of the judiciary and others from the legal profession will also be supporting the project.
Yesterday, the contract with the author of the first volume in the series - on Public Law - was signed at Bangor University Law School. The author, Keith Bush, is the former Chief Legal Adviser to the National Assembly for Wales and Director of the Legal Wales Foundation. This year Keith Bush has been appointed Honorary Queen's Counsel in recognition of his pioneering contribution to helping us achieve a better understanding of how Devolution in Wales sits with the law of England and Wales. The volume on Public Law - Cyfraith Gyhoeddus - will be published at the end of the year.
Carys Aaron, the project manager and a part-time lecturer at Bangor Law School, explained: "As in many other subjects, Welsh language undergraduate provision in the field of Law is being strengthened. This book project will underpin this development. As Professor Gwynedd Parry commented in his book Cymru'r Gyfraith, 'The basic stumbling block is the lack of books …. explaining the law in Welsh'. The main aim of this project is to fill that void, so that our universities have the necessary materials to prepare a new generation of solicitors, barristers, and legal practitioners who are bilingually proficient and confident."
Welcoming the project – which has been over five years in gestation – Professor Dermot Cahill, Head of Bangor Law School, observed: "When I pitched this idea to the Welsh Government over five years ago, there was little appetite to fund this project. However, the passage of time has demonstrated the need for textbooks, and I am delighted that the Coleg Cymraeg Cenedlaethol has taken on the challenge and funded this project. Bangor Law School is delighted to support this contribution towards widening scholarship of Welsh Law."
Publication date: 3 April 2014