Bangor's forgotten link to the conquest of Everest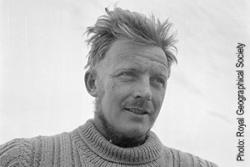 Charles EvansAs we reached the 60th anniversary of the conquest of Everest by a British-led team, it is interesting to recall Bangor University's link with this dramatic event.
Charles Evans was 35 when he became Deputy Leader of John Hunt's famous 1953 Everest expedition. Born just two months after his father was killed in action in the First World War, Charles grew up with his mother, Edith, at Derwen near Corwen, north Wales. He spoke only Welsh until he was 6 years old, but was educated mainly in England – first at Shrewsbury School, and then at Oxford where he read Medicine. His interest in climbing having been encouraged by a Master at Shrewsbury School, he joined the Oxford University Mountaineering Club, and had climbed the Alps by 1939, as well as mountains in Wales, Scotland and Ireland. After qualifying, and serving in Burma in the army medical corps, he moved to Liverpool to be Surgical Registrar.
His first love was the mountains, however, and he joined the Wayfarers Club in Liverpool, and was elected to the Alpine Club in 1949. He quickly developed a considerable reputation as a mountaineer, taking part in expeditions to the Himalayas – to Annapurna (1950), Deo Tibba (1951) and Cho Oyu (1952). A quietly-spoken, private man, he seemed to exude strength and courage. His selection as Deputy Leader of the Everest expedition was not a surprise. "His leadership was unassuming but masterly", wrote Michael Westmacott, one of the Everest team, many years later.
There had been several Everest expeditions in the 1920s and 1930s – on one of which, in 1924, George Mallory had disappeared into the snows and mists of the mountains, never to return. However, the 1953 expedition made history. In late May 1953, nearly a month after setting up Base Camp, the team reached the South Col – at 26,000 feet, and having traversed dangerous ice and snow, this was a highly significant achievement. It was then that Hunt chose two teams to make the assault on the summit. The first attempt, on 26 May 1953, was made by Charles Evans and Tom Bourdillon. When they were within 300 feet of the summit, Evans took the fateful decision to turn back because of faulty oxygen equipment. Two days later, Edmund Hillary and Tensing Norgay made a second attempt – and at 11.30am on 29 May became the first people to reach the highest point on earth.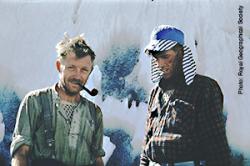 Charles Evans (right) and Edmund Hillary.This was the golden age of mountaineering exploration, and when the news broke four days later it had an enormous public impact across the world – not markedly dissimilar to that of the moon landing in 1969. The Everest team returned to London to a heroes' welcome. Hillary and Hunt were knighted; Tensing received the George Medal. There were receptions at Buckingham Palace, at Lancaster House and elsewhere. The mountaineers were feted wherever they went – except for Charles Evans, who characteristically did not return immediately to London, but left quietly for Nepal to do more climbing. "I wouldn't mind a party myself", he wrote to a friend at the time, "but I'd rather be in the mountains."
The following year, Evans led a team to the summit of Kangjenchunga, the third highest peak in the Himalayas, which was "perhaps the finest British mountaineering achievement of the decade", according to Jim Perrin. But a two-man trip to Annapurna IV in 1957 was to be Charles Evans's last expedition. In 1958, he forsook medicine to become Principal of the University in Bangor (the 'University College of North Wales' as it then was) – a surprise appointment in many respects. At around the same time, his physical abilities began to decline: he was diagnosed with multiple sclerosis, and within just a few years of taking up the post he was regularly using a wheelchair.
Charles Evans was to become President of the Alpine Club from 1967 to 1970, and was knighted in 1969, but, at the age of 40, his high-altitude mountaineering days were over.
By Dr David Roberts
Registrar
Publication date: 28 May 2013