Bangor Scientists travel to Peru to research life in thin air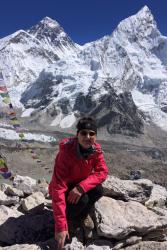 PhD student Lydia Simpson on Everest during a previous research expedition.Mountains literally take our breath away, not only because of the dramatic landscapes and distinctive cultures, but because every breath taken at high altitude contains less oxygen (known as hypoxia). Hypoxia places a considerable strain on the lungs, blood, heart and blood vessels as they work together to satisfy the body's need for oxygen. Researchers from the School of Sport, Health and Exercise (Extremes Research Group) at Bangor University have a particular interest in understanding how humans adapt to life in thin air.
Over the years, staff and students have participated in high altitude research expeditions to the European Alps, Nepal, and the Ethiopian highlands, as well as performing trials closer to home, in a purpose-built hypoxic chamber in Bangor.
This summer, Lydia Simpson a second-year PhD student, will travel to Cerro de Pasco, a city in the Peruvian Andes situated at four times the height of Wales' highest peak (Yr Wyddfa/Snowdon), as part of an international high altitude research expedition, Global REACH (Research into Altitude Chronic Health). The expedition has been organized by the University of British Columbia (in Canada) and along with more than 40 researchers from Wales, Peru, Austria, Canada, the United States and New Zealand, Lydia will investigate how being born at high altitude gives individuals some degree of natural adaptation to cope with the stress of hypoxia.
"Importantly, this research will also address why some high altitude natives become intolerant to life in thin air," explains Dr Jonathan Moore, a lecturer at Bangor, and Lydia's supervisor, who is also travelling to the Andes.
"In Peru, about one third of the population lives at high altitude, and approximately 15 to 20% of adult males become intolerant to altitude, which leads to progressive and debilitating 'loss of adaption', known as chronic mountain sickness or CMS."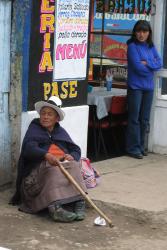 Perivian women photographed during a previous research expedition.The main feature of CMS is an excessively high number of red cells in the blood, making their blood very thick. Other signs and symptoms of CMS include headache, dizziness, poor sleep, chronic fatigue, and blue discoloration of the skin. It is also well established that CMS is frequently associated with higher than normal pressure in the blood vessels supplying the lungs, which forces the heart to work harder to pump blood around the body. This causes breathlessness, heart palpitations, and exercise intolerance and, in some cases, may develop into irreversible heart failure and lead to an early death. For many sufferers the only treatment is to move to lower altitudes; however, this leads to problems of social and economic isolation, which can have a significant impact on psychological health and well-being. Improved knowledge and understanding of the pathophysiological mechanisms underlying CMS may provide much-needed treatment options for this population.
"We will record blood pressures in the heart and lungs, and nervous system activity directed to blood vessels, with the aim of addressing whether an exaggeration of the body's stress ('fight or flight') response plays a role in chronic mountain sickness and pulmonary hypertension in Andeans" says Lydia.
"If we determine that this is the case, then the use of drugs to block some of the stress responses, and lower blood pressure in the lungs, may help to reduce the life-threatening consequences of CMS pulmonary hypertension-related cardiovascular disease in the Peruvian Andes."
"The ethnic community of the Himalayas are considered 'kings of the mountains' and are known for their superior ability to cope with low oxygen levels" explains Lydia. "It is important to compare these genetically and geographically distinct high altitude populations to identify the adaptations that enable individuals to thrive best in thin air"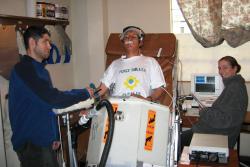 Dr Jonathan Moore testing a Peruvian male from the Andean high altitude region during his previous trip to Cerro De Pasco.This expedition, which will be part funded by a Santander Mobility Award, an Expedition Grant from the Gilchrist Educational Trust, and the Physiological Society, will add to previous research conducted in Nepal (October 2016), where the team studied Sherpa people, native to the Kumbu valley of Nepal (5050m above sea level).
Publication date: 20 June 2018