Bangor University Archives material feature on ITV1 landmark show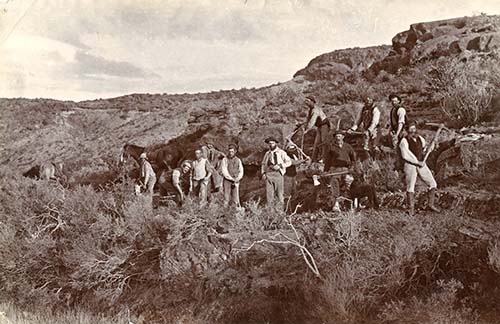 Photo: Building a road to Cwm Hyfryd c1888. In the middle, wearing a white coat, stands Llwyd ap Iwan, son of Michael D Jones, who was murdered in 1909, by bandits.
Bangor University Archives material will appear on a new ITV1 landmark series this summer. 'Britain's Secret Homes' is a brand new, five-part documentary series revealing the 50 remarkable stories behind the UK's most secret, surprising and intriguing homes.
Presented by two award-winning broadcasters, Michael Buerk and Bettany Hughes, the series also includes contributions from an eclectic range of well-known people and experts, including Sir David Jason, Ricky Tomlinson, Twiggy and Michael Portillo.
Each of the homes revealed in the top 50 countdown tells an extraordinary story about who we are as a nation and how we once lived. From cottages to council houses, bungalows to palaces, some of the most significant homes in our country remain relatively unknown to the public. But all these extraordinary places have borne witness to key moments in our nation's history.
Episode 3, which will broadcast on Friday 21st June at 9pm, is presented by Gethin Jones and features Bodiwan in Bala. Bodiwan is now a bed and breakfast guesthouse, but 150 years ago it was home to the Reverend Michael D Jones. Tired of the oppression the Welsh language and culture faced in his home country, Michael D Jones sought to create a 'New Wales' across the seas. The Chubut Valley, a sparsely populated region in Patagonia, was chosen for the colony. In 1865 the Mimosa set sail from Liverpool carrying around 160 Welsh men, women and children for Argentina. The colony endured hardships, such as drought and floods, but it thrived and remarkably, today, descendants of the original settlers can still be found, speaking Welsh in Patagonia.
Bangor University's Archives has the largest collection of material relating to the Welsh colony in Patagonia outside the National Library of Wales. Photos of Michael D Jones, the first settlers, and settlers in Cwm Hyfryd, provided by Bangor University will feature on the programme.
In partnership with CADW and the heritage bodies from England, Northern Ireland and Scotland, each story is brought to life using archive, cutting edge CGI and dramatic reconstruction. From country manor houses to unassuming terraced two-up two-downs, these homes' stories deliver eye-opening accounts of political intrigue, conspiracy, invention, romance and heroism that make the very fabric of British history.
Publication date: 17 June 2013