Bangor University hosts Neuroimaging in Dementia Workshop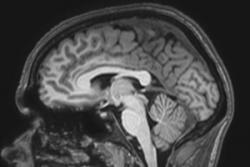 It's been called a time-bomb, as the population is living longer, so the cases of dementia are on the increase. Within north Wales alone there are about 12,000 people diagnosed with dementia, and with an ageing population this number will rise.
However this may only be the tip of the iceberg, as diagnosis often relies on complementary medical techniques and a raft of tests. Current NICE guidelines recommend the use of neuroimaging techniques such as Computed tomography – CT scans, magnetic resonance imaging – MRI or even positron emission tomography – Pet scans, in the diagnosis of dementia.
The impact of these techniques is often limited by the lack of knowledge and training on neuroimaging techniques and their capabilities. Researchers at Bangor University, in collaboration with Trinity College Dublin and University College Dublin, aim to help. Through a €1.2 million program part funded by the European Regional Development Fund through the Ireland-Wales Programme 2007-13, the three Universities are developing and delivering training programs aimed at expanding the knowledge base in their local areas on the use of neuroimaging in dementia, both for research and diagnosis. It is hoped that these training programs will broaden and deepen local skills. The program is also hoped to provide a boost to dementia research within the three universities, by training the next generation of researchers.
As part of the NeuroSKILL program, Bangor University will be hosting a Neuroimaging in dementia workshop on Friday 5th July and Saturday 6th July. This two day workshop, organised by Dr Paul Mullins from Bangor University, will involve a series of talks about neuroimaging and will include a practical session incorporating the School of Psychology's 3T MRI scanner and computer laboratories.
Within north Wales this type of training is unique, and attendees with learn about the process from image collection through to final analysis. Ultimately it is hoped that as neuroimaging becomes more important in the diagnosis of dementia, training programs of this nature will directly benefit patients through increased local knowledge.
Dr Paul Mullins, Director Bangor Imaging Unit, said "This workshop will provide an excellent opportunity for local clinicians and researchers working in Dementia to learn about the different types of imaging and what they can tell us about dementia. The complementary theoretical and practical aspects of the course will allow participants a greater appreciation for what is involved with neuroimaging and give them a better ability to evaluate the information produced, both in research and clinical practice."
The NeuroSKILL project is a collaboration between Bangor University, University College Dublin and Trinity College Dublin. The project is part-funded by the European Regional Development Fund through the Ireland-Wales Programme 2007-13. NeuroSKILL team at Bangor University are: Dr Paul Mullins, Prof Linda Clare, Dr Catherine Quinn, Ms Karolina Russiak and Dr Nia Goulden.
For more information about the Workshop please visit the website: www.neuroskill.eu




Publication date: 17 June 2013