Bangor University's Prof John Witcombe receives prestigious award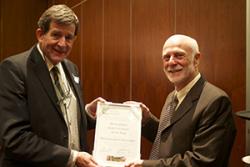 Prof John Witcombe (right) receiving the Award from TAA President Andrew Bennett.Prof John Witcombe, Professorial Fellow in the School of Environment, Natural Resources and Geography, received his award as Development Agriculturalist of the Year for 2014 from the Tropical Agriculture Association recently.
This award, the TAA's most prestigious, recognised a lifetime's work, and particularly John's contribution to developing varieties of rice and maize through participatory plant breeding, where varieties are bred to meet the requirements of poor farmers in marginal areas, rather than for well-managed environments on research stations. This work has benefitted agriculture throughout the tropics and has had a genuine, positive impact upon society.
His very early maturing GM-6 maize has better grain quality and yield, and has improved livelihoods for 300,000 of the poorest farm households in Gujarat, India, being grown on a cumulative area of 2 M ha and accounting for almost 100% of certified maize seed production in the State. Early maturity is not selected for on research stations, but is valued by farmers so they can avoid drought at the end of the season.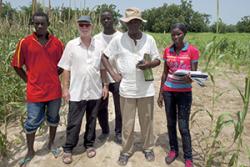 John Witcombe (second from left) during a visit to Senegal.In eastern India, upland rice breeders always believed coarse-grained rice was what farmers wanted, although John's research found they actually wanted fine-grained rice as they preferred the taste, and if forced to sell grain could get a higher price. Ashoka 200F and Ashoka 228 have been the most successful upland rice varieties in eastern India, replacing the other modern varieties grown there. DFID funding allowed 250,000 farmers in eastern India to receive seed. Now, almost all those farmers continue to grow the Ashoka varieties, and they give seed to other farmers in their own and other villages, who in turn also distribute seed. These varieties are now grown by millions of households in Eastern India, providing vital food security in drought years and increasing household food self-sufficiency from six to nine months.
Accepting the award, John particularly thanked two Bangor colleagues, Dr Krishna Joshi and Prof. Daljit Virk, and two Indian scientists Sri Arun Joshi, who helped him start the breeding of GM-6 maize, and Prof. JP Yadavendra who helped evaluate its impact.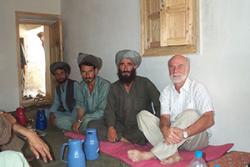 John Witcomce ( right) discussing with farmers in Afghanistan.John also thanked DFID for its funding, and highlighted the irony that funding stopped because of a perceived lack of success, when the award was due to the considerable impacts produced. He said it was tragic that UK scientists no longer had opportunities to directly apply science to alleviate poverty, with DFID's money provided through the BBSRC and Innovate UK, neither of whose priorities are poverty alleviation in the developing world. He concluded by hoping DFID would change direction to again allow UK scientists to alleviate poverty through agricultural science.
The TAA is a professional association concerned with the role of agriculture for development throughout the world, bringing together individuals and organisations from around the world to enable them to contribute to international policies and actions aimed at reducing poverty and improving livelihoods. Tropical and sub-tropical environments are home to billions of people and face many challenges in supporting these populations through agriculture.
Publication date: 19 December 2014