Bangor University students awarded prestigious Drapers' Company medals
Bangor University students were presented with the Drapers' Medals recently. The Drapers' Company is one of the historic Livery Companies of the City of London, and now a philanthropic organization. The Drapers' Company kindly donates two medals each year to be awarded to outstanding postgraduate students.
Professor Carol Tully, Pro Vice-Chancellor (stude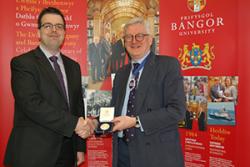 Stephen Clear (left) being awarded the Silver Drapers' medal from Master Draper, Nicholas Bence-Trowernts) lead the event and Nicholas Bence-Trower, Master Draper, presented the students with the medals. These prestigious awards takes into account the quality of a student's research, teaching, and service to the University and community.
Stephen Clear was awarded a silver Drapers' Company medal and is nearing completion of a PhD in in the area of public procurement and judicial review at the School of Law. He is specifically carrying out empirical investigations into the necessity of judicial review as a remedial route in public procurement disputes.
Stephen said: "It is a privilege and honour to receive this award. Throughout my studies, I have been afforded ample opportunities to present my research not only internally, but also externally at national conferences. I am very grateful to my thesis supervisor Dr Ama Eyo for all her mentoring and guidance throughout my time as a postgraduate within the Law School.
"It has been a privilege to complete my thesis research at Bangor University. I have benefitted not only from the vast expertise of the School of Law, but also had plentiful opportunities to advance my CV as an early career academic. The School of Law has offered me unrivalled experiences, both as a tutor/teacher and a researcher. I am very grateful to Professor Dermot Cahill, Head of School, and all the staff for their unwavering support. As I near the end of my PhD thesis, this prize has given me determination and focus as I proceed to the final stages of my work."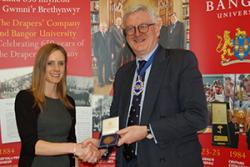 Claire Catherall receiving the Bronze Drapers' medal from Master Draper, Nicholas Bence-TrowerClaire Louise Catherall was awarded a bronze Drapers' medal. Claire has recently completed a PhD on the Population Characteristics and Environmental Interactions of the King Scallop Fishery in the English Channel, within the School Ocean Sciences.
Claire said: "I'm very proud to receive this award. It's been such a fantastic opportunity to do the PhD and be a part of the University's School of Ocean Sciences and it is great to end an ambitious three and a half year project in such a positive way. The research I have carried out during my PhD has been incredibly varied. I have conducted a habitat survey of scallop fishing grounds on board the RV Prince Madog, completed numerous trips on board commercial scallop vessels to sample bycatch and learnt many laboratory and analysis techniques.
"I also spent a lot of time speaking to fishermen to find out about industry opinion on current fishery management measures and the socio-economic drivers of fishing behaviour. All the data I have gathered can be used to inform more effective and sustainable management of the fishery, which is imperative under new EU legislation that requires all fisheries to be managed in a sustainable way.
"The experience of working so closely with the UK fishing industry and my involvement with the Government departments that are responsible for fisheries management has been invaluable to informing my research and developing my career. I hope to continue work within fisheries research now I have completed my PhD, and Bangor University has state of the art facilities and a fantastic Ocean Sciences department from which to do this."
Nicholas Bence-Trower said: "We're delighted to be in Bangor and it's fantastic to be able to award the students. We really value our relationship with Bangor University which has been going on for many years and I hope will continue for many years to come."
For over a hundred years the Company has been linked to the University, initially through substantial grants towards the construction of some of the University's main buildings including the library, science laboratories and the electrical engineering department. Today, through The Thomas Howell's Education Fund for North Wales, the Company supports undergraduate and postgraduate students in various departments and faculties, and contributes to a postgraduate hardship fund providing modest support for individuals' living expenses.
Publication date: 21 May 2015