Bangor University Students conquer Kilimanjaro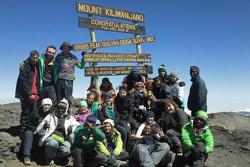 At the summit of KilimanjaroAfter six days of blood, sweat and tears a group of Bangor University students triumphantly reached the summit of Mount Kilimanjaro, all in the name of charity.
Earlier in September, the group travelled to Africa to climb the 5,895m peak to raise money for Dig Deep, a charity that works with communities in Kenya to provide clean water and sanitation.
Led by Daniel Blaney, School of Sports, Health and Exercise Sciences, the team of 7 students, alumni and friends successfully raised £22,575 for their chosen charity after a year of fundraising.
On their return from Africa, Daniel said: "It was absolutely fantastic and very much the hardest physical challenge I've ever faced.
"We were teamed up with a group from Bath Spa University and every single one of us made it to the summit. As group leader I was absolutely over the moon with this, as very few groups this large make it to the top together.
"Summit day started at about 1 am, as without extra oxygen it was vital that we had plenty of time after reaching the summit to get as close to sea level as we could. After reaching the summit we had to descend 4000m, about three times the height of Snowdon. The biggest challenge we faced was the altitude, it affects everyone differently and can cause severe headaches, vomiting and loss of appetite which is perhaps the greatest issue as you are burning close to 4000 calories per day.
"Summit night was easily the hardest thing I have ever done, but the reward of reaching the summit and having a 360 degree view of a sea of clouds thousands of metres below you completely dwarfed the challenge."
Each student had a fundraising target of £2,990 to undertake the trip. Their fundraising events included bag packing sessions at local supermarkets, events at Academi, the University's nightclub, gigs in Bolton by friends of the team and they also tackled the gruelling Welsh 3000s in Snowdonia as a training exercise and as a means to raise more sponsorship.
Daniel explained: "We're raising money for this charity because the lack of clean water in countries like Kenya is a huge problem, but one that we can fix easily. The money we can raise together may not seem like a huge amount to us, but to the people in these communities it makes a huge impact and is the difference between life and death for many of them. Everybody should have access to clean water and everybody has something they can do to help."
Along with Daniel the team were Alex Battery, School of Sports, Health and Exercise Sciences; Imogen Hammond and Jasmine Chinnery, School of Environment, Natural Resources and Geography; Daniel's sister, Megan Blaney, Bangor Business School, Sam Rees, alumnus and their friend Ceri Morgan.
The improvements the Dig Deep charity make will allow for a better standard of education in rural communities, meaning more of the people can escape poverty.
Publication date: 22 October 2015