Broadcaster Huw Edwards gives special public lecture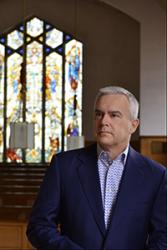 Huw EdwardsThe renowned broadcaster Huw Edwards will give a special public lecture in Bangor University on Friday, 24 November. In the lecture, he will discuss the early history of Welsh chapels in London. The Archives and Special Collections annual lecture, entitled 'Duw a'r Gin-shop: hanes cynnar capeli Cymraeg Llundain', will take place in Pontio Lecture Room 5 at 6pm. The event is free and all are welcome, but tickets are required. The lecture will be given in Welsh, with simultaneous translation. Please book tickets and translation headsets through the Pontio Box Office on 01248 382828.
Huw Edwards is one of the foremost broadcasters and communicators of his generation, and an Honorary Fellow of Bangor University. This is a special opportunity to hear him speak on his recent research, some of which was undertaken in Bangor University's archives.
He said 'The main founder of the first Welsh chapel in London was Edward Jones, a former soldier and publican. In this lecture, I will trace the early history of Welsh chapels in London, explaining their importance in the history and culture of the London Welsh.'
Event details: https://www.bangor.ac.uk/news/events/huw-edwards-duw-a-r-ginshop-hanes-cynnar-capeli-cymraeg-llundain-33620
Publication date: 1 November 2017