Culture Challenge 2016
Bangor University students celebrated cultural diversity and collaboration on Saturday 10th December with an action-packed Culture Challenge!
Organised by the International Student Support Office, the Culture Challenge saw ten teams made up of 1 national British student and 3 international students go head to head in both a presentation round and a general knowledge quiz to win a trip of a lifetime to Barcelona!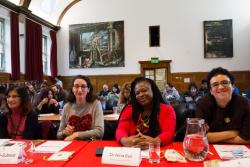 The Judging Panel
In the first half of the competition, the 10 teams were asked 25 general knowledge questions on the categories of Wales, the UK, Europe, the World and even a Science round, followed by a round of pictures (naming of paintings and celebrities). Curious about the kind of questions asked? Test yourself with these 2 questions from the Culture Challenge Quiz: 1. Who was the last sovereign prince of Wales before its conquest by Edward I of England in 1282? a) Edwyn ap Gwriad ; b) Bleddyn ap Cynfyn; c) Llywelyn ap Gruffudd – 2. Many countries have the Star and Crescent as the main symbol in their flag. Can you name 2 of them? See answers below.

After a short lunch break, the second half of the competition, consisting of presentations, took place. The teams had been asked to find a creative way to present the culture of one or more of the team members' native countries to a panel of six judges and on the day of the event, they performed them on stage. This year the presentations were scored based on Content and Delivery by a wide range of University Staff: Noor Al-Zubaidi (International Education Centre); Melanie Brown (Business School); Matt Day (UNDEB); Dr. Ama Eyo (Law School); Yasmin Noorani (Library and Archives Service) and Dr Sarah Pogoda (Modern Languages and Cultures).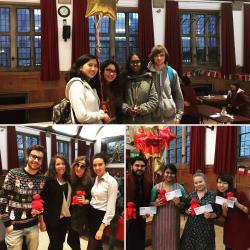 The Culture Challenge Teams
We saw great performances that included dancing, live music, theatre and even Japanese and Nigerian food tasting! Everybody put a lot of effort to deliver good presentations and they did fantastically well! The winners of the third and second prizes (Ninjas Prifysgol Bangor and Tea Frog Mafia, respectively) were congratulated with online vouchers from EthicalSuperstore to spend on Fair Trade, Organic and Eco-Friendly products of their choice. In a very close call, the winners of the competition were Team Team: Sanjitha Nalli from India, Methavee Chaloeyjitr and Norramon Tengcharoensuk from Thailand and Jack McCaffrey from the UK. They focused their performance on comedy across cultures and how traditions and stereotypes are portrayed through the medium of jokes and memes in the team members' home countries.

The winning team will travel to Barcelona during the first week of April 2017 for a trip full of history, culture, language, modernist architecture and fun! They will be accompanied by a local guide with a great passion for Barcelona – Marcel Clusa – the current Clerical Officer within the International Student Support Team.
To keep up to date with all the photos and stories of their Catalan adventures, please follow Bangorinternational on Instagram
The organising team would like to thank the panel and participants for their positivity, their enthusiasm and for giving everyone a big lesson on how multiple countries can unite as one to create beautiful, powerful things together.
Nadolig Llawen / Happy Christmas,
The International Student Support Team.

**
Answers:
1- c) Llywelyn ap Gruffudd
2- Turkey, Algeria, Tunisia, Libya, Mauritania, Sahrawi Arab Dominican Republic, Northern Cyprus, Malaysia, Pakistan, Azerbaijan. Flags with Crescent and multiple stars: Turkmenistan, Uzbekistan, Cocos Island, Comoros, Singapore.
Publication date: 20 December 2016