Drapers' Company Medal awarded to Bangor students
Bangor University students were presented with the Drapers' Medals recently. The Drapers' Company is one of the historic Livery Companies of the City of London, and now a philanthropic organization. The Drapers' Company kindly donates two medals each year to be awarded to outstanding postgraduate students.

Professor Carol Tully, Pro Vice-Chancellor (students) lead the event and Andy Mellows, Head of Charities for the Drapers' Company presented the students with the medals.

Owain Jones was awarded a silver Drapers' Company medal for an exceptional postgraduate contribution to Bangor University. This prestigious award takes into account the quality of a student's research, teaching, and service to the University and community.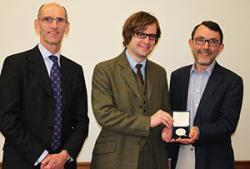 Andy Mellows, Owain Jones and Professor Huw Pryce

Owain recently successfully completed his PhD thesis on 'Historical Writing in Medieval Wales', and is currently a Coleg Cymraeg Cenedlaethol Teaching Fellow in the School of History, Welsh History and Archaeology.

Professor Huw Pryce, Professor of Welsh History, School of History, Welsh History and Archaeology commented:

"It is a substantial and exceptionally original piece of work that demonstrates an assured grasp of a range of complex primary sources, in Latin and Middle Welsh. This includes the ability to edit a Middle Welsh text and to set the historical writing in its wider social, political and cultural context in medieval Wales. This is the best PhD thesis I have supervised in over 30 years at Bangor."

Owain has also contributed to the work of the School by teaching first-year seminars on medieval Welsh history over the last three years. He has been a member of the School's Welsh Medium and Welsh History Committee and made valuable contributions to its discussions. He has been passionate about promoting Welsh activities and also represented Bangor University on University Challenge recently.

Owain said:

"This award has derived from the work that I've already accomplished and therefore the School nominated my contribution. I feel proud to have won this medal and for the recognition of my work."

Owain will be starting his new post at School of History, Welsh History and Archaeology next year.

Zubaida Abdul Sattar was awarded a bronze Drapers' medal. Zubaida completed a PhD in Nano-Laser Physics within the School of Electronic Engineering.

Zubaida has made notable research contributions which have been disseminated via high-quality journal papers and leading international conferences. She has also exhibited remarkable leadership in establishing the IEEE (Institute of Electrical and Electronics Engineers) student branch at Bangor.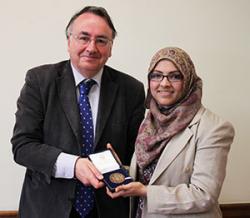 Professor Alan Shore and Zubaida Abdul Sattar

Professor Alan Shore, from the School of Electronic Engineering said:

"I nominated Zubaida for her ability to combine her research that has already led her to achieve her PhD with activities in the community. Zubaida's energy to develop the IEEE Bangor branch has been invaluable for students and the community."

Zubaida, who will be graduating with her PhD in July said:

"It is a prestigious award and I'm happy that my tutor believed that was eligible for this award. I think this should be happening in every university in order to encourage students, and that they're able do as much as possible for their university."

For over a hundred years the Company has been linked to the University, initially through substantial grants towards the construction of some of the University's main buildings including the library, science laboratories and the electrical engineering department. Today, through The Thomas Howell's Education Fund for North Wales, the Company supports undergraduate and postgraduate students in various departments and faculties, and contributes to a postgraduate hardship fund providing modest support for individuals' living expenses.
Publication date: 20 May 2014