Film producer's challenge to politicians and the media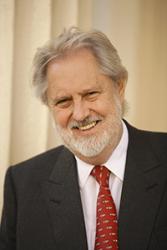 Lord PuttnamOscar-winning producer David Puttnam who produced Chariots of Fire, The Killing Fields and Memphis Belle, will deliver a Public Lecture at Bangor University on Wednesday 1 May, and he promises some incisive comments about the Leveson Report and the state of the media.
The lecture is entitled "The Lessons of Leveson: Media Regulation in an Internet Age" will take place at 6.00pm in the University's Main Arts Lecture Theatre. This is the last event of the University's Public Lecture Programme for 2012/13. Admission is free, but those intending to come are advised to arrive early.
Lord Puttnam, who became a peer in 1997, will address some of the issues which have emerged from the Leveson inquiry and consider what we have learned both about the media and British society as a whole. He has alredy put on record that he believes there is a need to totally re-evaluate the way we look at the relationship between the media and democracy. Lord Putnam has spoken in the House of Lords and in the country generally on the Leveson Report, most recently proposing an amendment to Leveson in the House of Lords.
An agreement to create a royal charter that would, in effect, both underpin the regulation of the British press and guarantee its independence from government has now been reached by all the political parties.
Lord Putnam is on record as commenting that he hopes that recent events "signify that we have collectively turned the page, and that politicians of all persuasions now recognise that the regulation of the media, entirely independent of government, and backed by appropriate powers of civil enforcement, is one of the fundamental guarantors of a healthy democracy in the 21st century."
David Puttnam's films – which include Chariots of Fire, The Killing Fields and Memphis Belle – have won 10 Oscars and 25 BAFTAs. He was Chair and Chief Executive of Columbia Pictures from 1986-88, and has served on many bodies, including being President of the Film Distributors Association, Deputy Chair of Channel 4, and a Trustee of the Tate Gallery and the Science Museum.
Publication date: 19 April 2013