First partially sighted ascent of Matterhorn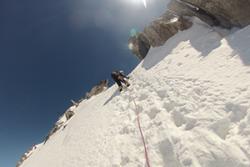 David on a training climb in the Mont Blanc area earlier this year.A Bangor University researcher will soon attempt to complete the first partially sighted ascent of the Matterhorn in Switzerland.
Dr David Reynolds, 27, Research Officer at the School of Ocean Sciences will be climbing the 4,478m peak to raise money for the Royal National Institute for the Blind (RNIB) early in September along with his brother Steven, 28, and two guides. A couple of years ago, he was diagnosed with Stargadts macular dystrophy (MD) which is a degenerative eye condition that causes the central part of the retina to degrade causing a loss of the central vision and the development of blind spots for which currently there is no cure.
As the condition has developed, David has had to give up some things such as driving and cycling, and so decided to set himself a challenge to prove to himself and hopefully show other people dealing with sight loss that their ambitions are still attainable.
David said: "At the time I feared that the diagnosis would prevent me continuing a career in palaeoclimate research as I thought that my work was dependent on having good detailed vision. The mental challenge of sight loss is probably one of the biggest hurdles; this is fuelled by uncertainty as the doctors can't predict how fast your eyes will deteriorate or to what extent. As a result people who suffer with sight loss are at a far greater risk of depression.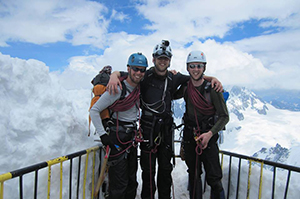 (L-R) Neal Haddaway, David Reynolds & Steven Reynolds"Charities like the RNIB provide support and visual aids that are essential for people who suffer with sight loss to live a relatively normal life. So having benefited from their help over the last couple of years it would be great to give something back."
Originally from Mold, David has been living in and around Bangor for the last eight years having moved here to Study for his undergraduate degree in Marine Biology. He joined the Bangor University Mountaineering Society and seriously got into the sport, climbing both indoor at the local walls and outdoors in Snowdonia whenever he could. David continued to climb the entire way through his undergraduate degree and during his PhD which was also at Bangor's School of Ocean Sciences.
To support David, you can donate on-line at: http://uk.virginmoneygiving.com/matterhornclimb
For more information about the expedition visit his webpage http://www.matterhornclimb.co.uk
Publication date: 29 August 2013