Golden Age of Welsh Pop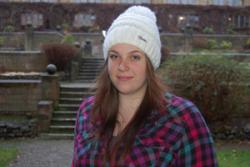 The National Waterfront Museum in Swansea displays more than 300 years of Welsh industry and innovation and a new exhibition next year (2013) will focus on an important, if not so immediately apparent Welsh industry.

Hannah Way, currently living in Talysarn is researching the 'Golden Age' of Welsh pop on behalf of the Museum. She is investigating the impact of small independent labels on the Welsh pop scene and the impact of new media on those who have survived.

Those are some of the questions Hannah is asking some of the 'movers and shakers' of the Welsh rock and pop scene during the 80s and 90s. Hannah is supported by the Knowledge Economy Skills Scholarship (KESS) programme which supports collaborative research with organisations based in West Wales and the Valleys. Using European money Hannah's KESS Scholarship will lead to a Master by Research degree and provide the relevant R&D skills and experience to work in the field following the completion of her studies.
Hannah is 22 years old and comes originally from Nelson. She graduated last year with a degree in Welsh from Bangor University. For the KESS project, Hannah works under the supervision of Dr Pwyll ap Siôn and Dr Craig Owen Jones, lecturers at Bangor University School of Music, with interests in the Welsh rock and pop scene.

Dr Craig Owen Jones said: "The scene exploded in Wales with a large number of small studios and independent labels being created and opened during the period. This gave a number of bands and groups access to the technology to record and share their music with new audiences. Since then, there has been a revolution in the use of computing for mass media, of course. This new media could be considered a threat to the publishing industry, of course, but it also offers a new means to share music with people. Part of Hannah's work includes asking the labels about their use of new media to promote their products as well as how new media impact on business."

Ian Smith, Modern & Contemporary Industry Curator at the National Waterfront Museum said: "Considering our historic industries, we naturally tend to think of the heavy industries, like coal and steel, but we do have a tradition of innovation and enterprise in very different areas.
"The Golden Age of Pop exhibition will highlight Wales' music industry and explore some of the cultures and traditions associated with it.
The exhibition will also have interactive elements and we would like to make some of it available online."
Hannah explained: "The opportunity to delve deeper into the history of Welsh pop offered by this project was very appealing to me. As someone who comes from non-Welsh speaking family, I did not realize how big the rock and pop scene in Wales until coming to Bangor University Welsh and experiencing the Welsh student life here. This included going to gigs and Welsh music club nights and so on. The whole background is fairly new to me on an eye-opener."

"My starting point has been to contact the individuals behind labels and artists of the 80s and 90s in order to discuss the industry at the time. I've met Dafydd Iwan and meet soon with Steffan Cravos, a leading member of the Welsh underground pop scene and Gruff Meredith of the Tarw Du Label, among others. I also have an interest in the use of Welsh rock and pop in education in Wales: activities with people like Martyn Geraint for nursery age children, through the nights organized for young people by the Urdd and, of course, Bangor University's module which deal with aspects of Welsh pop.


Publication date: 21 December 2012