Ground-breaking Libraries Services initiative is a Times Higher Education Award-winner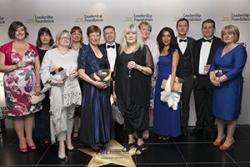 Members of the WHELF Shared LMS team with their award. Flora Lewis (far Right) represented Bangor University at the event.: Image courtesy Times Higher EducationBangor University Library and Archives Service have received the Outstanding Library Team Award, presented at the Times Higher Education Leadership and Management Awards 2015, along with other Welsh partners in the Wales Higher Education Libraries Forum (WHELF). WHELF comprises the National Library of Wales, all the Welsh universities, the Welsh NHS Libraries, the Open University in Wales and the Royal Welsh College of Music and Drama.
The Times Higher Education awards, now in their seventh year, recognise outstanding leadership and management in the UK's higher education institutions. The team are delighted to be part of this award-winning project which is a ground-breaking partnership to deliver a library management and resource discovery system for the whole country. Ultimately we hope that users will be able to access and borrow material from every higher education library in Wales, while both physical and digital services are being transformed. The first cohort of libraries has gone live and Bangor University will implement the new system next summer."
The judges described WHELF as an "ambitious project" that "shows great trust, ability to develop a shared vision and achieve impressive cross-organisational alignment and coordination". "As well as cost savings on procurement and infrastructure, the partnership approach will improve discovery and ultimately access to library resources for all users in Welsh universities, the National Library of Wales and further afield," the panel said.
Sue Hodges, Director of Libraries & Archives at Bangor University and Vice-Chair of WHELF said: "I'm delighted that Bangor University's Library and Archives Service has made a valuable contribution to the development of this project. All WHELF libraries are committed to working together to open up our collections for teaching, learning and research and to our communities. It a truly collaborative project across Wales of which we are all proud."
The WHELF project, the first of its kind within UK higher education, has secured funding through Jisc and CyMAL (Museums, Archives and Libraries Wales).
Facilitated by Cardiff University, which chaired both the working and the steering groups, it has been a genuinely collaborative process, with all the member libraries playing a full and active part. Given their geographical distribution, this has involved video-conferencing and shared online spaces for storage and real-time production of essential documentation.
Chair of WHELF, Aled Gruffydd Jones (Chief Executive and Librarian, NLW) commented that 'this award is a tribute to the excellent collaboration that has been developed between library teams in very different kinds of institutions across Wales. The mutual trust and respect on which it is founded not only enhances the services we offer to our users, and at a lower cost, but also provides a very strong basis for further joint working in the future.'
The winners were chosen by a panel of judges including Alison Johns, Chief Executive of the Leadership Foundation for Higher Education, David McBeth, Director of Research and Knowledge Exchange Services at the University of Strathclyde, and Maja Maricevic, Head of Higher Education at the British Library.
Publication date: 10 July 2015