School of Welsh and Urdd partnership goes from strength to strength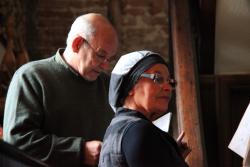 Welsh actors, John Ogwen and Maureen Rhys performing parts from the play, Siwan by Saunders Lewis.
The School of Welsh at Bangor has played a major role in organizing two highly successful residential courses for year 12 and year 13 students of Welsh at the Urdd's Glan-llyn centre near Bala. Working in partnership with the Urdd – Wales's largest youth movement – this is the fourth year in succession that such courses have been organized by the School. On November 19-21, second-language students attended a course devoted to numerous aspects of their Welsh AS/Advanced studies. A similar course for first-language students followed on November 21-3. In all, the courses were attended by 180 AS/Advanced students from all over Wales.
Talks and lectures were given by Dr Jason Walford Davies, Professor Jerry Hunter, Dr Aled Llion Jones, Professor Peredur Lynch, Dr Angharad Price and Professor Gerwyn Wiliams. Two PhD students – Robat Trefor and Manon Wyn Williams – also contributed valuable study sessions. Students attending the courses also had the privilege of listening to three Bangor University Fellows. Actors John Ogwen and Maureen Rhys gave a mesmerizing performance of sections from the play 'Siwan' by Saunders Lewis, and a filmed in-depth interview with poet Professor Emeritus Gwyn Thomas – whose poetry is studied at both first-language and second-language levels – was also shown.
"This is, annually, a major commitment for us in the School of Welsh", remarked Professor Peredur Lynch, Head of Welsh at Bangor, "but interacting in such a manner with school students and their teachers it is also a remarkably rewarding experience in educational terms. As a School, we have long-standing relationships with the Urdd movement, and it's always a great honour to contribute to the movement's work".
Huw Antur, Director of the Urdd's Glan-Llyn Residential Centre, added: "The Urdd appreciates the School of Welsh's substantial academic input to the success of these courses and its generous spirit of co-operation in the complex task of organizing such a wide-ranging programme of activities. Creating dynamic partnerships with external organizations such as the School of Welsh and Bangor University has always been of vital importance to the Urdd."
Publication date: 27 November 2012