Sea Shells and climate change 3rd International Sclerochronology Conference (ISC2013) Caernarfon, North Wales, UK - Sunday 19th May to Wednesday 22nd May 2013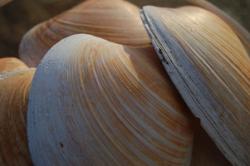 A major international conference is being hosted at the Galeri in Caernarfon by scientists at Bangor University. Scientists from around the world – including Japan, Australia, India, the Falkland Islands, Canada and the USA as well as all parts of Europe and the UK - will be talking about how they use shells, corals and bones to study past and present changes in the marine environment. Topics include the marine climate of the past, biology, ecosystems, fisheries and archaeology.
Dr Paul Butler of School of Ocean Sciences at Bangor University said "At the last conference three years ago, we won a vote to host this conference in Caernarfon against strong French and Japanese competition. We highlighted the facilities available at Galeri and its beautiful location, Caernarfon's historical tradition, and the outstanding natural surroundings, and these clearly attracted the delegates.
"There has been some fascinating research in this field over the last few years, including the discovery (by scientists at Bangor) of the longest-lived animal known to science. With the concentration of carbon dioxide in the atmosphere now reaching levels last known on the planet some 3 million years ago, we are actually able to use fossil shells from those times to find out how the marine environment was affected, and this will help us to predict the consequences of modern, man-made, climate change.
"We can do other things as well; for example we can use shells to measure baseline conditions at sites of marine infrastructure projects such as wind and tidal turbines, so that their effects on the local environment can be seen in a long-term context.
"At the conference we'll be exchanging ideas, nurturing new collaborations and planning the way forward for the field. We are looking forward to an exciting and fruitful week. Please come and watch us at work – a buffet lunch is included in the daily rate."
The 3rd International Sclerochronology Conference (ISC2013) will take place at Galeri, Caernarfon, North Wales, UK between Sunday 19th and Wednesday 22nd May. Sessions are open to the public, at a rate of £100 per day (£70 for PhD students and £30 for undergraduates and Masters students) payable at the reception desk. You can look at the program here:
And the full conference website is here:
The conference will be followed by a fieldweek, to be held at Bangor University's School of Ocean Sciences , located in Menai Bridge, where young scientists will learn the techniques of working with shells, demonstrated by experienced experts from USA, Germany and Wales.
Publication date: 17 May 2013