Take pity on Ugly Foods!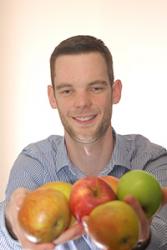 Dan Taylor. a postgraduate students who wil be managing The Ugly Food shop.A new concept in shopping is coming to Bangor from Thursday, 5 March. 'The Ugly Foods Shop' will be selling fruit and vegetables that are rejected by supermarkets and large stores because of their appearance, but which are perfectly fine for eating.
'The Ugly Foods Shop' will be open every Thursday, Friday and Saturday during March at Bangor's Deiniol Shopping Centre. 'The Ugly Foods Shop' aims to provide a new lease of life for the wholesome yet irregular fruit and veg which do not meet conventional beauty standards. Unusual shape or skin blemishes may mean they are refused entry to supermarket shelves. 'The Ugly Foods Shop' thinks beauty is only skin deep and offers you the chance to save them from landfill, and at a cheaper price!
Juices, soups and smoothies will also be sold on site to show just how great ugly food can taste. In addition the 'in-a-box' range contains everything you will need to create your own fresh and tasty soup or stew at home.
Bangor University's Wales Centre for Behaviour Change will also be involved to help move people's attitudes and pre-conceptions in favour of 'Ugly Foods'.
Some of Bangor University's students provide the brains behind the project. Lowri Owen from the Careers & Employability Service's B- Enterprising project explains:
"Bangor University encourages its students to be entrepreneurial and consider the option of self-employment and starting their own business. While they may not all become involved in retail, taking part in this project provides them with a foretaste of running their own business and helps them to develop the employability skills required by employers."
"I'd like to thank Bangor City Council for offering us the opportunity to use the pop-up shop," Lowri added.
Dan Taylor, a post-graduate Masters student who will be managing the pop-up shop said: "This is a great opportunity for students to gain vital experience for future employment, and allows for students to prove that the knowledge built over their degrees will make an impact in the world of work. The Ugly Foods shop will be an outlet for students to prove to the community that creativity and innovation is a vital part of their degrees."
Gwyn Hughes, Town Clerk, Bangor City Council added: " As part of our on-going initiative to re-generate the High Street, we are delighted to be working closely with Bangor University on innovative ideas to offer shoppers in the city centre a different experience to what they can get elsewhere."
Bangor University's B-Enterprising programme is supported by funding from the Welsh Government's North West Wales Hub which is part funded by the European Regional Development Fund and the Welsh Government to support delivery of the Youth Entrepreneurship Strategy (YES) for Wales.
Related documents:
Publication date: 3 March 2015