Three Bangor research projects among top 20 contributing towards development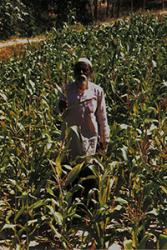 A farmer surveys his disease resistant pearl millet crop.Research at Bangor University is having an impact on people's lives around the globe.
No fewer than three research projects at the University have been included among the 20 most impressive examples of university research which contribute to development. They were selected from almost 7,000 reserch projects at UK universities.
Bangor University's work on crop improvement shows how UK research can make a global impact: this one project has increased food security for an estimated 3 million people.
This work by Professor John Witcombe of the University's School of Environment, Natural Resources & Geography, has developed a disease-resistant variety of pearl millet, a staple crop for populations throughout Africa and South Asia. Every year the disease, downy mildew causes extensive crop losses. The new disease-resistant variety is now grown extensively in India – enabling more resilient farming systems and creating jobs for local women in the process. This is one of numerous new and improved crop varieties developed at Bangor University, with the participation of local farmers in Asia.
A researcher at Bangor's School of Ocean Sciences is also a key member of a research partnership which is protecting local livelihoods in coastal parts of Kenya, by supporting mangrove forest conservation and restoration in the region. Poor communities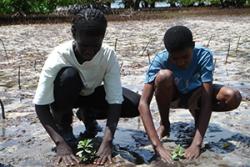 Mangrove planting in Kenya.rely heavily on the natural resources and ecosystem services that the mangroves provide. Dr Martin Skov of is one of three key academics in the UK whose collective research has helped local communities initiate the world's first carbon trading project with a marine ecosystem; the mangroves. The community project (www.eafpes.org) brings $12-18,000 annually to people of Gazi Bay by trading certificates of the CO2 that is captured by the mangroves protected by them. Profits fund job generation and community projects, such as building new school wings and water supplies. The project is now fully community run, and includes a variety of supporting activities.
Dr John Turner, also of the School of Ocean Sciences has been closely involved with developing and surveying the world's biggest marine reserve to support the biodiversity and people of the Indian Ocean. The coral reefs and islands of the Chagos Archipelago in the central Indian Ocean are a British Overseas Territory. They are the UK's most biodiverse marine environment. The uninhabited Chagos reefs have been little, if ever, affected by human activity. The archipelago boasts the cleanest seawaters ever tested and a high degree of biological richness, biomass and productivity. Using Chagos as a reference site is providing a strong foundation for the restoration and management of other damaged reefs.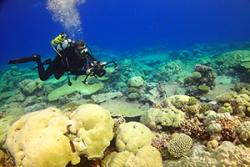 Surveying a reef in the Indian Ocean.
Prof David Shepherd, Deputy Vice Chancellor, and responsible for research at the University commented: "Our aim is that our research should have global impact and should make a difference in people's lives. These are a great examples of the many ways that research carried out by our academics is having a major impact on the economy and the lives of people around the world."
Publication date: 9 October 2015