Top 10 for Bangor in global green league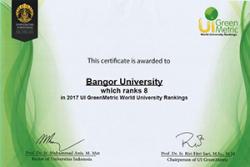 Bangor University's commitment to sustainability has once again been confirmed in an international league table of environmentally friendly institutions. The UI Green Metric, a league table of the world's greenest universities, was first launched by Universitas Indonesia in 2010 to highlight sustainability and environmental management at universities around the globe. Since then the number of Universities taking part has increased; this year 619 universities from 76 countries took part, an increase from 516 universities last year. In the current league table, Bangor has moved up eight places to 8th position, placing us in the top 2% of participating universities.
Vice Chancellor Professor John G Hughes said:
"I am delighted that Bangor continues to maintain its position as a sustainability leader within the international higher education sector. This latest announcement demonstrates our ongoing commitment to taking positive action in promoting sustainability and achieving continual environmental improvement".
Year on year Bangor University and Undeb Bangor (the Student's Union) work closely together to continually improve their positions as sustainability leaders. Since 2014 the University has risen 20 places in the Green Metric, taking it from the top 10% to the top 2% of the world's greenest universities, whilst the number of universities participating nearly doubled during that time. It's been a year of success with the University awarded a "First Class Honours Degree" in the People and Planet University League for its overall sustainability performance; it became one of the first institutions to achieve the new ISO 14001:2015 international standard for environmental management and was the first organisation in the UK to achieve the highest level of the new and more stringent version of the Green Dragon Standard for environmental management. In July Undeb Bangor added another NUS Green Impact Excellence Award to its collection, having achieved the Gold Award three times in 2011 and 2013 and 2016.

The University is not resting on its laurels. In the academic year 2017/18 the University has adopted a team approach to environmental management. The new Campus Environmental Performance Team (which includes representatives from all corners of the university) is working closely with UNDEB Bangor (the students Union), the Campus Life team and the wider community to bring sustainability to life.
Dr Einir Young, Director of Sustainabilityresponded to the announcement saying:
"This is a campus-wide team effort. Driving environmental improvements and resource efficiencies throughout the organisation is a challenge without end and one that requires all of us to join in. We recognise that sound environmental management is essential to our aim of developing and applying innovative ways of integrating consideration for sustainability and the well-being of future generations into everything we do, through our research, our teaching and our own supply chain".
Publication date: 19 December 2017