Volcano Theatre's MACBETH - DIRECTOR'S CUT returns in a 21st Century remake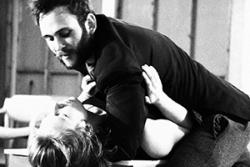 Volcano Theatre will be paying their first visit to Pontio Bangor on Wednesday 16 November.
It is 18 years since the Swansea-based company premiered its breathtakingly original version of Macbeth, subtitled 'Director's Cut'. With its 'libidinous' choreography by Nigel Charnock, its strobe-and-thrash-metal descent into chaos after the murder of Duncan, and its visual references to the sordid crimes of Fred and Rose West, it was universally acknowledged as an extraordinary performance, and elicited strong responses on every part of the spectrum, from awe to outrage.
This autumn, Volcano revisits Shakespeare's pacy, bloody, eloquent tragedy; handing over the central roles from the company's founding members to a new generation of performers. Lady Macbeth is the Glaswegian powerhouse Mairi Phillips, whose irrepressible energy has fizzed through several of Volcano's recent productions from Chekhov to A Clockwork Orange. Her partner in crime is Welshman Alex Harries, best known as DC Lloyd Elis in the BBC1 drama Hinterland.
The subtitle, then and now, is not so much a nod to auteur theory as a shot across the bow of the conventions and priorities dominating Shakespearean performance in mainstream theatre and cinema. Volcano's Macbeth strips back the already economical text and redistributes the lines of other characters between the killer couple with a purposeful irreverence that some might find sacrilegious. But there's plenty left, now including a variation on the Porter's Scene (newly restored for the 2016 version, which has a richer vein of humour than its predecessor). This time round, the erotically-charged fury of the original Director's Cut has given way to a boisterously playful absurdism with a muscular undertow of menace. The emphasis has shifted from destructive sexual passion to an implied backdrop of endemic violence in which the protagonists slip all-too-easily easily from banter into brutality.
The new design, by young Beirut-born and Wales-trained designer Tina Torbey, has dispensed with both the baroque excess and the domestic squalor of the previous version, replacing them with a starkly beautiful stagescape of austere and versatile objects, fabrics, weapons and miscellaneous corpses which might equally represent 11th Century Scotland or 21st Century Aleppo, where 'Each new morn / New widows howl, new orphans cry, new sorrows / Strike heaven on the face'.
Macbeth is directed by Paul Davies, who played the title role in the original production and is Volcano's co-founder and Artistic Director. Devotees of furiously-paced 1990s physical theatre might be disappointed that Davies has not sought to reproduce Volcano's original classic more closely, as he did when he remade the company's other Charnock-choreographed Shakespeare piece L.O.V.E. (a staging of the Sonnets) in 2012. But his unwillingness to settle for easy wins or to relax into a formula is one of the things that has kept Volcano's work fresh and surprising in a changing artistic and political landscape. Not knowing quite what to expect when going to see a well-known play can perhaps seem a bit daunting, but the pay-off is the pleasure of the unexpected, and a bracing disregard for the rules that levels the field between seasoned theatregoers and new audiences. When Volcano goes into the rehearsal room, everything is still to play for.
Macbeth – Directors' Cut
Wednesday 16 November, Theatr Bryn Terfel, 7.30pm
Tickets: https://www.pontio.co.uk/Online/mac16 or 01248 38 28 28
Publication date: 14 November 2016