Welsh women win award for achievements in social enterprise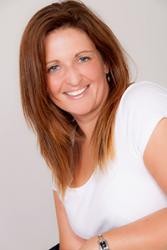 Victoria BurrowsVictoria Burrows, Sandy Ackers, Annie Donavan and Alison Hill have won the prestigious Network She Women in Education Award 2014. They are among the first students to complete a Masters in Social Enterprise while excelling at their demanding jobs.
Mark Richardson, Director of Social Enterprise at the University's Business School commented:
"Two years ago Bangor University launched Wales' first Masters in Social Enterprise, and already it is empowering a new generation of Social Entrepreneurs. Our first cohort of students are now graduating, using their new-found knowledge and confidence to transform Wales for the better. This award for Victoria, Sandy, Annie and Alison is testament to their enormous hard work and commitment, and we look forward to witnessing the tremendous impact they will all have on Wales"
Victoria Burrows has spent the last two years juggling studying with her full time job as Deputy Manager for DangerPoint, a safety education charity based in Talacre, Flintshire.
Just being selected for the Masters was a challenge with almost 10 applicants for every place, and Victoria was thrilled to be part of the programme. It was an opportunity to invest in personal development and to learn from the Social Enterprise Sector in the UK and Ireland.
Social enterprises tackle many of the toughest problems in Wales like unemployment, mental health and drug and alcohol abuse. And they do this while trading like a regular business to become sustainable, long-term solutions.
The highlight during the last two years for Victoria has been learning from other social enterprises, and about their role in society and the impact they have on their community.
As a result of the hard work over the last two years, Victoria has decided to conduct freelance work with other charities and social enterprises to develop their funding and business strategies.
She said:
"The course has given me time to look at my future and the confidence to take steps to achieve my goals.
My tips or advice to other social enterprises would be to have an individual or individuals with and entrepreneurial flair on your board of directors or trustees. Never be afraid to operate commercially or make a profit – Social enterprises are not nonprofit organisations; they should compete with the private sector and be able to charge commercial rates for their services."
The MSc was funded by Interreg and delivered in partnership between Bangor University and DCU Ryan Academy in Dublin. It is part of a wider project which provides high level training for social enterprises in targeted areas of Wales and Ireland.
Publication date: 18 August 2014