Bangor University student selected for team GB in orienteering championships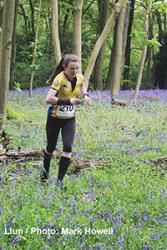 Katie ReynoldsA Bangor University student has been selected to represent Great Britain at the World University Orienteering Championships in Finland in July.
Katie Reynolds, 23, from Swansea is nearing completion of a Marine Biology Master's degree and received a Bangor University Sports Scholarship in 2017.
Currently ranked second in Wales at senior level, Katie started orienteering at around 10 years old as her parents were enthusiasts.
Katie said: "I have been training and competing ever since. I carried it on as I found it much more interesting than just normal cross country or running. It adds a new challenge to races."
In the past few years, Katie has had numerous successes including, third at British Universities and Colleges Sport (BUCS) 2018; first place in the BUCS relay in 2016, British Relay Champion 2016; second in the sprint category of the Jan Kjellström International Festival of Orienteering 2016; second in the Australian Sprint Championships 2016 and 24th in the World University Championships in 2016.
To achieve selection Katie had to race at the Jan Kjellström International Festival of Orienteering over Easter, take part in BUCS competitions and race at the British Championships in May and get into the top 6 placings for eligible athletes.
Katie said: "I'm very happy, relieved and excited to be selected. I was worried about whether I would be fit enough as I had a tough winter with injury and illness, but I worked hard to get fit for the selection races, while trying to keep on top of uni work! I had a lot of help from my strength and conditioning coach, Talisa from Canolfan Brailsford, and we worked a lot on my weaknesses.
"I am excited to represent Bangor University at the World Universities Championship. Without the support of the scholarship and coaching I doubt I would have made the team, so I am grateful to the University for their support!"
Publication date: 18 June 2018