Fantastic Finnish opportunity for Charlotte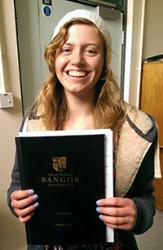 Charlotte AngoveA talented Bangor University student with a keen interest in the environment has recently began a PhD at Helsinki University.

Charlotte Angove, 22, from Rawcliffe, York, received a Master of Marine Biology degree (MMBiol) after studying for four years at the School of Ocean Sciences.

Inspired by her father's experiences in the merchant navy, and finding the perfect course at the University's open day, a future in marine biology seemed the most natural career option for the former Fulford Sixth form and Canon Lee Specialist Arts College student.

About her time at Bangor, Charlotte explains: "I visited the School of Ocean Sciences during one of the University's open days and could see myself living in Bangor and enjoying it.

"As part of my course, I went on a field trip to the Virginia Institute of Marine Science. It was led by Professor Chris Richardson and funded by the Drapers Company. It was a fantastic experience where we all worked in wonderful ecosystems brimming with life.

"I also had the opportunity to undertake a 6 week summer internship at the University, which was funded by the Cemlyn Jones Summer Bursary. It involved working in the marine chemistry lab with Professor Hilary Kennedy and Paul Kennedy, looking at organic carbon and seagrass meadows. I found it to be a fantastic experience and it really influenced my future career choices. What I liked most about studying at Bangor was the opportunity to get involved with the science going on there. I was even able to volunteer on a couple of geophysical surveys aboard R.V. Prince Madog, in a project associated to SEACAMS (Sustainable Expansion of the Applied Coastal and Marine Sectors).

"My favourite clubs were the Endeavour Society, which is the University's ocean sciences society, Mountain Walking and Quidditch.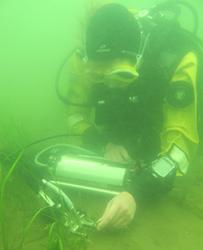 Charlotte diving in Finland"During my final year, I took part in the University's Alumni and Development Office's fundraising telethon, which was a wonderful experience, and very interesting to speak with so many of the University's Alumni.

"I started my PhD in Finland at the beginning of June. I am now working at the Tvärminne Zoological Station, University of Helsinki. It is brilliant to continue the research theme that I have been working on as part of my Master's degree, which is to do with the functioning of underwater plant communities. I am living in the Finnish archipelago and it is exciting to be part of a team of scientists that are investigating different aspects of the Baltic Sea. My favourite part so far is scuba diving to do underwater incubations on seagrass.

"It feels terrific to be graduating from Bangor. I have some fantastic memories of the place and I know that I will cherish them for a very long time."
Publication date: 17 July 2015