Irish Ambassador visits Bangor University
Bangor University hosted Ireland's Ambassador to the UK recently and showcased some of the ongoing research collaborations between Bangor and Irish partner institutions.
Mr Dan Mulhall, who has been Ireland's representative to the UK since 2013, was welcomed to the University by Vice-Chancellor, Prof. John G. Hughes and attended a presentation at the School of Ocean Sciences.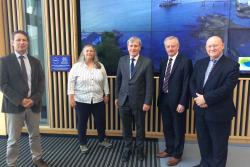 (L-R) Prof Lewis LeVay, Dr Shelagh Malham, Ambassador Mulhall, Prof John G. Hughes, Hywel Williams MP
Researchers at the school have been working with partners in Ireland on two partnerships focussing on the shared Irish Sea. The €5.5M Bluefish marine science partnership is investigating the effects of climate change in the Irish Sea on the sustainability of fish and shellfish, while the €1M 'Irish Sea Portal Pilot' should provide both fishermen and scientists with a better understanding of how shellfish larvae travel around the Irish Sea, and when and where they can be found. Both projects are funded with support from the EU's Ireland-Wales co-operation programme.
Welcoming Mr Mulhall to the University, Vice-Chancellor, Prof. John G. Hughes, said:
"It is a pleasure to welcome the Irish Ambassador to Bangor University and to showcase some of the innovative collaborations we have between the university and partner institutions over in Ireland. In addition to our geographical proximity, our shared interests in various academic disciplines, from Celtic languages and literature to Ocean Sciences, have resulted in some truly world-leading collaborative research projects."
Mr Mulhall also met some of his Irish compatriots working here at Bangor University and met Arfon MP, Hywel Williams, who had visited Ireland with a Plaid Cymru delegation recently to explore and strengthen the historic link between Wales and Ireland.
Speaking after the visit, Mr Mulhall said that the links between the two countries are deep-rooted and that the collaborative research currently undertaken between Wales and Ireland further solidifies that special relationship. He said:
"I am delighted to visit Bangor University and Marine Centre Wales to see the strength of research collaboration between institutions in Ireland and Wales. The fascinating research projects funded under the EU-supported Ireland-Wales Programme illustrate to me the creativity and talent that this programme supports and the importance of this close cooperation."
Mr Mulhall is currently approaching the end of his tenure as Irish Ambassador to the UK and will soon take up a new post as Ireland's top representative in Washington DC.
Publication date: 13 July 2017