Student Profile: AJ Jones – BSc in Marine Biology and Zoology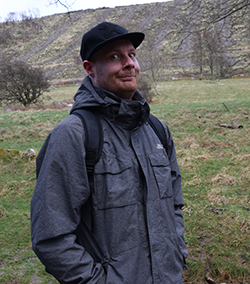 AJ Jones
Why did you choose Bangor?
I chose to study at Bangor because of the research facilities and the resources that are open to the students. Through studying at Bangor, I have been able to get a great understanding of marine life around the world. The course itself focuses on the biology of many species from Phytoplankton to larger mammals such as Elephants and Blue Whales. Being a mature student who's been working for a long time, I can understand how hard it can be to secure a great job. Bangor University helps students gain vital experience in leadership, work management, and the fundamentals that are needed to help progress further throughout your career.
The course
The thing I enjoy most about the course is the practicals and the ability to go on the research ship Prince Madog. Not only that but I have been able to create a great network of contacts that will help me progress further throughout my career.
Clubs and Societies
The clubs and societies that I have been involved in throughout my time at Bangor have been the Bangor Karate Union, Bangor Rock and Metal Appreciation Society (BRAMAS) and Bangor University Skate. I have held various positions on the committees, being the social secretary for Bangor Karate Union and Vice President and Secretary for BRAMAS to help run the society and create a great atmosphere or new students.
Life in Bangor
The thing I like most about Bangor is the area; it is closely situated near some amazing beaches, and not forgetting Snowdonia National Park.
University accommodation
During my first year I lived in the Halls on Ffriddoedd Village. The building I was staying in was called Peris and I lived in a private en suite. My experience living in halls was great, I was able to talk to my flat mates and enjoy some great conversations.
Advice for new students?
I think the best thing to do would be to read up on your chosen subject and get some savings behind you. Coming to university can sometimes be a very difficult time for many people. Truth is, everyone is in the same boat as you and everyone else is nervous about what to expect. Go with the flow and enjoy your time at university.