Congratulations on getting in to Bangor University!
Whatever you are looking forward to, or whatever your concerns, we are here to help. This online induction course will help to make the transition to Uni life at Bangor a little smoother. Prepare to explore the extraordinary.
Be Bangor Ready in just 10 steps
Bangor is for everyone!
Become part of our Bangor student community before even arriving! Connect with your peers on Facebook and by registering for our CampusConnect app. Ask our students any questions you may have about Bangor and make connections with those you'll be studying and living with.
Our student vloggers will tell you all about studying at Bangor, and provide tips and advice about life as a student.
Our students come from all across the globe. 
Bangor University was founded in 1884 and was funded by local quarrymen and farmers who wanted to provide access to higher education in North Wales. Originally known as the University College of North Wales, the University started with only 58 students and 10 members of staff and was based in an old coaching inn called the Penrhyn Arms. The original portico of the Penrhyn Arms can still be seen on your left as you drive in to Bangor from the A55. 
The impressive 'Main Arts' building on the hill overlooking Bangor is built on land donated to the University and funded in part by local people and was opened in 1911. The University has expanded over time and the range of architecture across our buildings represents our long history.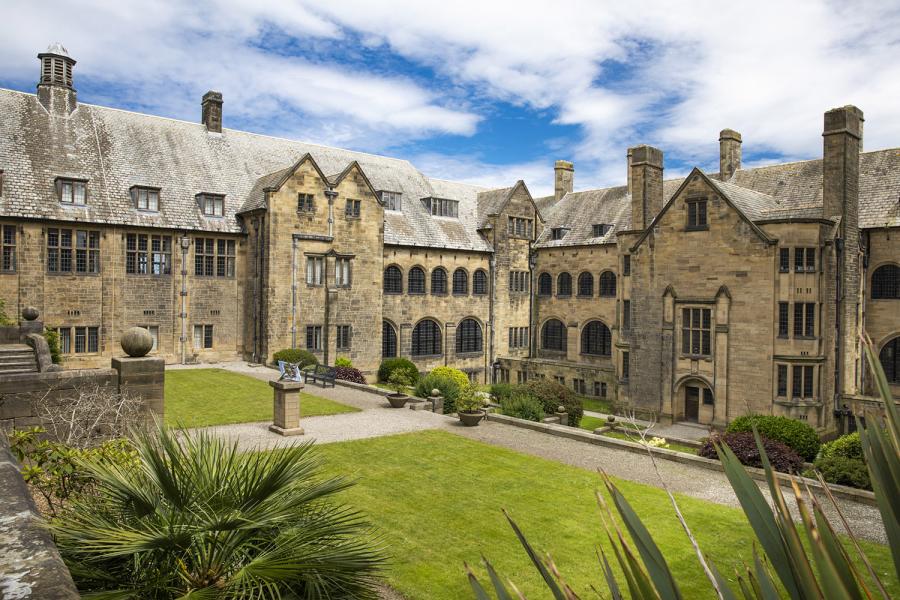 Students studying at one of our home campuses do so at either Bangor or Wrexham.
Bangor Campus

Bangor is a City, due to its Cathedral, but it is a very small city. Bangor lies along the valley between the Menai Strait and Bangor mountain and is flanked by two short hills. It is likely you will need to go up one or other of these hills most days to either get to lectures, supermarkets or back to your halls. Although not a campus-based university, the geographical spread of the University is very small and we can refer to its 'campus'. Almost all of the University buildings (lecture theatres, research labs and accommodation) lie within the City with the exception of Sports Science and Education (based on the Normal site on the mainland side of Menai bridge) and Ocean Sciences (based on Anglesey in Menai Bridge itself).

The university buildings are a mix of traditional and modern. The most recently completed building is 'Pontio', an Arts and innovation centre connecting the University to the city, which houses a full-size cinema, theatre, creative design studios, cafes and restaurants, as well as lecture theatres and teaching spaces used by schools across the University. Your school will usually have one main building where most of the academics have offices and research areas, but there may be additional buildings you need to visit for lectures, seminars, research studies, accessing archives etc.
Wrexham Campus

Wrexham is 70 miles from Bangor, in north east Wales, with easy access to the north Wales coast and the beautiful scenery of Snowdonia. The city of Chester is only 13 miles away and the larger cities of Liverpool and Manchester are also within easy reach by road or rail. This puts it within easy commuting distance of large parts of north west England and the Midlands as well as north east Wales. Within twenty minutes travel you can lose yourself in the Welsh hills, be fascinated by the Roman remains in Chester or view the rich historical past within Wrexham County Borough.

Our Wrexham campus is dedicated to Health Science subjects and our academic staff are either based at the Wrexham campus, or travel between Wrexham and Bangor as needed. Wrexham Maelor and Spire hospitals, where students undertake placements, have very close links with the school and are a two-minute walk away from the Archimedes and Cambrian building. You will have access to a Bangor University personal tutor, supervisory support for your academic work and support from our practice educator teams. We have regular cross-site meetings with our student representatives and encourage all students to be part of the cross-campus school. We want to make sure you feel part of the wider community of students at Bangor University whilst you are studying at our Wrexham campus. Studying here is like being part of a family, and many of the students studying midwifery, adult and mental health courses live in the Wrexham area. The child and diagnostic radiography courses are only delivered at the Wrexham campus, and some students live in Snowdon Hall which is the university accommodation shared with Glyndwr University. Wrexham is a smaller campus that has an excellent student to staff ratio, so our students get the opportunity to connect with all our experienced academic staff, from a wide range of clinical backgrounds. The campus also has a dedicated library with subject specific staff, and a well-equipped skills lab for all nursing fields at the Wrexham campus where students can practice their clinical skills in a safe environment supported by academic staff.
3. Explore our bilingual community
Bangor University is situated in Gwynedd, one of the counties in Wales with the highest number of Welsh speakers. Bangor, as a bilingual university, is here to prepare you for a multilingual world.
At Bangor, students who wish to do so can study a host of different modules and degree subjects through the medium of Welsh or opt to submit their assignment in Welsh even if they study through the medium of English. Whilst you are here, you will see bilingual notices, road signs and hear Welsh being spoken. Being around the language is a great way to learn a bit of Welsh. Why not take the opportunity to learn some Welsh through our online self-study Welsh course? This means you'll be able to work your way through the course at your own pace anytime, anywhere, using your internet connected phone, tablet, or computer. If you would like to register on the course please send us an e-mail. Or you might like to learn a different language through our free 'Languages For All' programme. 
Why not learn a few useful Welsh words and phrases using the interactive tool below.
4. Access the available support
Student Services provides support to students on a range of matters concerned with life as a student. From managing your finances, to supporting disabilities, to finding a graduate job, our services are there to help you make the most of your time at university.
Our services are available online so you can access information and advice wherever you are located.
Every student has a personal tutor whose job it is to help you achieve your academic potential. You can also talk to your tutor about certain personal matters and your tutor will try their best to help. If necessary, you may be referred to another member of staff, or to other services, for support or guidance. Your personal tutor will also give you feedback on your academic progress and you will meet with your tutor at least three times a year. If you are a Welsh-speaking student, you may ask for a Welsh-speaking personal tutor. 
5. See what it is like to study at Bangor University
Studying at university will be quite different from school or college, or from work. Here are some of our students to give you an idea of what it's like to study at Bangor and how your day might look.
International Students Video
Transcript for International Students Union Video

[0:00] Undeb Bangor would like to welcome all international students to Bangor University.

[00:06] Undeb Bangor is your Student's Union.

[00:08] As a student you are automatically a member.

[00:12] The Student's Union is here to make your voice heard.

[00:15] And to help you enjoy your time here at Bangor University.

[00:20] You can join a free sports club, society, and volunteering project. Or become a Course Rep or Student Councillor to improve the academic experience here at Bangor.

[00:30] Hi, my name is Pa, and I study music. My name is Jabesh Okumu. I study Masters of Science in Agroforestry and Food Security. Hello, I'm Sara Ebrahim. I'm 21 years old. I'm an international student from Bahrain. I just completed my degree in Accounting and Finance. Hi, I'm Samantha. I come from Hong Kong and I'm doing Adventure Sports Science.

[00:55] I am an international student so I joined lots of international societies like Philippines and Hong Kong.

[01:05] I'm a student and also a Course Rep in the School of Natural Sciences. I represent their views in the Students' Union.

[01:15] After joining Bangor University I was involved in the Student Council as an international student councillor. As an international student councillor I had to sit and listen to all the students around the University and make sure they have no issues with their studying, housing, with their schooling, or anything around that.

[01:34] I've been involved in the Badminton Team in the sports societies. In the volunteering sector I've been involved with St. John's Ambulance. There is definitely a lot more societies you can join for sports. There is definitely one sport you will like joining

[01:51] My personal favourite part as an international student were the events that we set the meetings that we all attended together with the councillors and students to listen to their issues or listen to their feedback about Bangor University and the internal events that we had together.

[02:09] The benefit is that we know more people and got more activities to do without only focusing on our degrees and studying.

[02:19] I would like to encourage everyone to be a part of the Students' Union, so you have more activities to do, more events to join, and more people to know. And you'll never get bored at Bangor Uni.

[02:33] I would really encourage you to be a part of this Union. You will find this place a home away from home.

[02:41] What are you guys waiting for?
6. Find out a bit more about what to expect by taking this quick quiz?
7. Check your tech ( Teams and Blackboard )
Different universities use different online platforms to provide information and support for your learning. In your first week we will show you how to log on, use our IT systems, and interact with our Virtual Learning Environment (VLE), and how to communicate with staff and other students. Here's Charlie, one of our Undergrads giving you a quick heads up about what exactly IS Blackboard
and how and when we use Microsoft Teams.
​​​​​​
Before you can access anything, however, you need to complete your online enrolment prior to arrival in Bangor – an email will be sent to you with details from mid-August. Please don't worry about the photo aspect of the process, we can turn photos around if they are upside down! Make sure you also complete your online ID check . Once both parts of the registration process have taken place, your Student ID card will be available for you
Where will your degree take you?
Our Employability Service is here to support you from the beginning of your time here at Bangor University, and throughout your student journey. 
Follow us on social media
9. Get to know your Students' Union
Students Union Welcome Video
Transcript for Students Union Welcome Video

[00:06] We're Undeb Bangor your Students' Union, we have over 150 different clubs, societies, and volunteering projects that you can get involved in absolutely free.

[00:14] You name it, we have it regardless of your ability you can join to play for fun or competitively.

[00:20] With around 100 societies ranging from academic societies, hobbies and interest, and cultural societies. You will definitely find a society that you'll love here.

[00:27] And anybody can start a society. All you need is a great idea and ten friends who share your passion.

[00:33] We have around 300 Course Reps across 9 academic schools. Course Reps are the students representing students fighting for positive change. We make sure that your voices are heard!

[00:43] UMCB is Bangor's Welsh Students' Union, we are here to represent you academically in any aspect of your Welsh medium provision. We're also here to represent you socially, including our Welsh medium sub-societies and volunteering projects.

[01:01] We also have over 30 student-led volunteering projects ranging from working with children to wildlife conservation, as well as working with the elderly and much more.

[01:08] We have a Student Council that meets throughout the year to discuss, debate, and pass new ideas. They also help us with campaigns and projects throughout the year.

[1:16] Undeb Bangor provides professional and academic advice services to all University students.

[1:22] We can guide you through various procedures and also help you with disciplinary actions. Although we hope you won't need our services!

[01:28] At the SU we also support with campaigns such as Black History Month, Women's History Month and LGBTQ+ History Month. As well as, Sustainability, Housing, and many other campaigns.

[1:40] You can get involved with our opportunities and projects by coming along to Serendipity our Freshers Fair, where all our opportunities will be there, showcasing what they have to offer.
'Be Bangor Ready' is here to give you a flavour of what you can expect when you come to Uni.
There's a lot to take in so we asked our Students' Union for their top tips!
If you have a hobby bring your equipment with you – there's probably a club for it here. Find a Sports Club
Bring walking boots and a waterproof coat to take advantage of North Wales' brilliant scenery
Get a recipe book and get into cooking - offer to cook with your flat mates too and have a group meal.
Explore Bangor with your course and flat mates – make sure you check out the Pier, Stone Circle and Roman Camp and then pop a photo on your social media or send it to your friends – they will be in awe of your Uni town.
Check out everything your Students' Union has to offer and sign up for some of the free clubs, societies, and volunteering projects. You can always change your mind and join a different, or another, group at a later date.
Make sure you have both enrolled and registered for your course. 
Check your uni emails regularly – this is how the uni will get in touch with you. 
Make sure you meet your personal tutor even if everything is going great.
Get to know new people, there are students from all over the world at Bangor with so many different interests and perspectives who are also keen to make friends.
Finally - be open to trying new things once you get here, no matter how niche!
Congratulations. You are now ready for Bangor University.