Visitor from the House of Commons learns more about Bangor Research
On Friday 15 February Dr Rhinannon Williams, Wales Affairs Specialist for the House of Commons, visited Bangor University and addressed a packed audience of academics and researchers. Dr Williams' role is to co-ordinate the collection and submission of evidence to the Welsh Affairs Select Committee.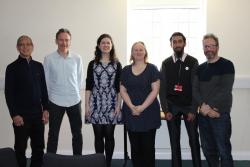 Dr Rhiannon Williams (3rd from left), Wales Affairs Specialist at the House of Commons, with Bangor University impact staff
Speaking at this event organised by the College of Arts, Humanities and Business and funded by an award from the ESRC (Economic and Social Research Council) Impact Acceleration Account, Dr Williams provided a guide to scrutiny and policy making structures.
Professor Nathan Abrams (Director of Impact, College of Arts, Humanities and Business) said "This was an excellent event which showed how easy it is for researchers from the arts, humanities, business and law to engage with parliament. I encourage everyone to learn from it."
During the afternoon session several academics, including colleagues from the College of Human Sciences and College of Environmental Sciences and Engineering, provided an overview of current projects. Afterwards they each received valuable feedback from Dr Williams on presenting research to parliament.
"The event was very interesting and useful. It was good to see the range of research being undertaken at Bangor University," said Dr Williams
This was a great opportunity for Bangor academics to understand how to maximise the impact of their research, and those who attended learnt a lot from the session. "We would like to thank Dr Rhiannon Williams for her visit and the ESRC Impact Acceleration Account for making this event possible", said Professor Nathan Abrams. He continued, "the information and feedback colleagues received will, I am sure, help to bring the innovative research carried out at Bangor University to the eyes and ears of policy makers in London and Cardiff."
This is one of a number of research oriented events organised on behalf of research-active staff at Bangor University. For updates and latest news and events please see our research pages:
https://www.bangor.ac.uk/research-support/researcher-development/programme/2019-02
Publication date: 6 March 2019