China arrives in Menai Bridge
Over a period of three days, with the help of tutors from the Confucius Institute at Bangor University, groups of Year 9 pupils spent their time learning about Tai Chi, calligraphy and Mandarin as part of the school's Skills Days.
In learning about Tai Chi, pupils learned how to improve the balance, posture, strength and flexibility of their bodies, how to relieve stress and anxiety as well as how to improve their memory, concentration and multi tasking.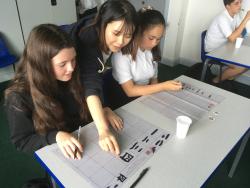 Calligraphy is regarded as one of China's supreme visual arts and pupils enjoyed learning about the history of Chinese characters and how it has evolved and developed over the centuries. They managed to write simple Chinese characters and how to form words on paper. In addition, pupils learnt diligently how to greet and hold a simple conversation in Mandarin.
'I really enjoyed learning how to do calligraphy and learning some Tai Chi,' said Shannon, a Year 9 pupil. 'Doing the calligraphy was a bit like mindfulness and I would like to do this again sometime.'
On behalf of Ysgol David Hughes, Asistant Headteacher Mrs Meinir Davies said,
'The Confucius Institute has afforded our pupils the opportunity to learn about different cultures through the medium of art, language and movement. The pupils really enjoyed trying new experiences and speaking to the tutors. This is the second time the Confucius Institute has led sessions at Ysgol David Hughes and we certainly hope to welcome tutors here again next year.
The aim of the Confucius Institute is to bridge the cultural and educational exchange between China and Wales by giving people the opportunity to experience Chinese culture and language and learn more about them.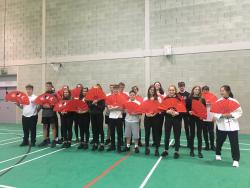 Publication date: 22 July 2019