China Summer Camp 2019
Every year the Confucius Institute at Bangor University with their partner China University of Political Science and Law (CUPL) organises a trip to China. This tour is a great opportunity to travel to different cities in China, and to learn, practice and experience Mandarin language and Chinese culture at first-hand. The trip is organised with other CUPL's Confucius Institute's partners, and the students will have the opportunity to meet with peers from Romania, West Indies and Norway.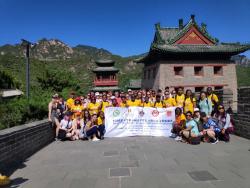 This year, 11 students took part in the two-week trip, spending the first week in Beijing where they learned the Mandarin language and were immersed in Beijing's culture and history. The students had memorable visits to historic places including: the Forbidden City, the Temple of Heaven, the Summer palace and Tiananmen square. The students also visited the headquarters of the Confucius Institute, CUPL, and Beijing Sport University.
The following week was spent in Tai'an, Shandong Province. The students experienced the fabulous local food and hospitality and had a change to practice their new Mandarin skills. They also visited a number of places of interest and participated in unique cultural and folklore experiences such as: learning how to make Chinese tofu and pancakes, attended a paper cutting and typography workshop, taking part in martial art lessons, enjoying a Chinese paining workshop and a shadow theatre.
Erik Monfort-Finning, a business studies student form Bangor University said:
'The Confucius Institute's Summer Camp 2019 has been an incredible event! Since starting university I had been looking for an opportunity to experience Chinese culture and language at the source, to visit China's great monuments, to eat the food, to walk the streets and to get to know China's people. Thanks to the Summer Camp I have been able to do this and more. Every day has been exceptional in its own way, from visiting the community centre to walking the great wall, from visiting the beautiful summer palace to doing Tai Chi at Tai'an University. Each unique activity has earned a special place in my memory. Thanks to this, my understanding of China has truly deepened and it is my plan and that of many others in the Camp to return to China as soon as possible as a result of these experiences. I would like to extend a great thanks to every person that made the camp possible as it has been a life changing experience, especially to Li lăoshī as he was the one that informed us about the camp and showed us what a great opportunity it was.'
Another student from Bangor University, Raja Asad said:
'The shadow play was one of the most interesting things for me in the summer camp itinerary and I was looking forward to it since the beginning. We were given the chance to create build our own characters from paper cuttings first then there was a display of shadow theatre afterwards. A few of the traditional Chinese stories were depicted and portrayed through the shadow play with a meaningful lesson behind. It was amazing to see how the flow was flawless and smooth behind the screen and we could see how the performers handled the characters from a screen showing their movements. Some of us also got a chance to try our hands on behind the screen play from the teachers. Overall one of the most interesting cultural experience so far in China.'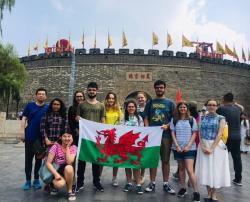 https://www.youtube.com/watch?v=qX2a14k_xUo
Publication date: 30 July 2019