Chinese Garden Specialists Share Expertise in North Wales
As part of its UK tour, representatives of the Beijing Municipal Administration Centre of Parks (BJMACP), visited Bangor University's Confucius Institute last week and in a fascinating lecture explained how the traditional Chinese Garden has developed over time. Beijing Botanical Gardens, Chinese flowers and different garden landscapes in southeast and south China were showcased during the lecture which was followed by an interactive workshop on Garden Architecture.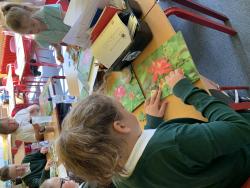 The Centre of Parks manages 11 municipal parks with historic value in Beijing. They consists of some of Beijing's famous landmarks including the Summer Palace, the Temple of Heaven, Beijing Botanical Garden and the Museum of Chinese Gardens and Landscape Architecture. These municipal parks welcome more than 100 million visitors every year and play an essential role in disseminating knowledge about Chinese cultural heritage, education, science, ecological conservation and classical Chinese culture.
Following the lecture Will Steward from Anglesey County Council said,
"It was a privilege to be able to attend the professional and informative presentation by representatives from Beijing Botanical Garden. They were wonderful ambassadors and the wonderful feeling that I had, while there, is still with me. There was the opportunity to use a colouring book, scribbling in colours into line drawings - an interesting exercise that I have not done for many, many years! This was very relaxing, and remarkably, brought out some quite interesting conversation with fellow 'artists'. That wonderful feeling of meeting with people from a different part of the world still stays with me. We listened to each other, we talked with each other, we drew with each other, we ate with each other. A perfect day!
He added,
The Confucius Institute facilitates understanding and friendship between countries and universities, and is a very special place. Institute staff do excellent work in organising events that are memorable for their wonderful organisation and new friends made."
In a separate location, at one of Confucius Institute's Classroom Hubs, Ysgol Hiraddug in Dyserth, two workshops were held. The first was on Chinese traditional musical instruments (made of natural materials such as wood, leather, bamboo) and played in the Temple of Heaven. In the second workshop, children were given the opportunity to learn more about Chinese flowers and plants as well as the natural environment and conservation.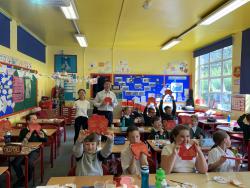 Pupils form Ysgol Hiraddug, Dyserth showcasing their Chinese creations!
Following the event, headmaster Tristan Hughes said,
"Both workshops were excellent, and the children had a fantastic time learning through play about Chinese plants, nature and musical instruments played in the temple of heaven. We are very grateful to the Confucius Institute for arranging this day and look forward to welcoming more workshops like this in the future. Thank you!"
The representatives from Beijing also visited Treborth Garden in Bangor and were very impressed with its Chinese Garden and the large number of plant specimens there.
Such was the success of its visit to Bangor this year, the Confucius Institute is already planning BJMACP's visit next year which will include a longer stay in Bangor, together with more workshops in local schools as well an exhibition in Bangor.
Publication date: 29 May 2019