Student Profile: Dmitrii Bucicov – BSc (hons) Design and Technology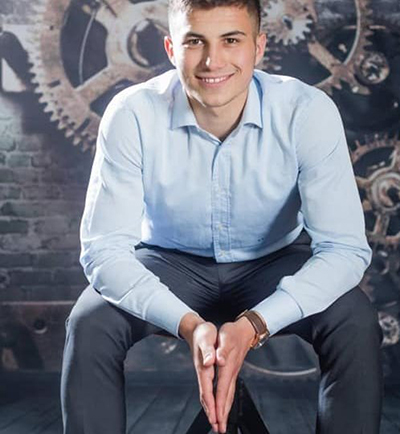 Dmitrii Bucicov
Why Bangor?
I heard about Bangor University through meeting my friend in the summer of 2018, at an international forum in Samara, Russia. I have chosen to study here due to the limitless and incredible opportunities that the course is offering, starting from commercial design projects and finishing with fast-track route into teaching, where our newly acquired skills and knowledge can be used to teach Design and Technology in a creative and imaginative way. Bangor is a wonderful place to study, live and enjoy the beauty of nature.
The International Ambassador Scheme
International Ambassador Scheme is designed to provide as much help/support as students may need after their arrival to ensure they are well settled and have a great experience whilst learning and adapting to the culture in their new country. I would like to become an Ambassador in order to whole-heartedly welcome new students, and share my own knowledge and experience to make their journey in Bangor as joyful and great as possible.
What is the most difficult thing about being an International Student?
Being an International Student can be challenging at the beginning as you need to adapt to a new education system, community, and living environment. I believe that although starting sounds uncertain and scary, going through this experience later you realise that this was the best experience, so it is always worth taking.
The course
The best thing about the course is that it provides students with real teaching practice in local schools every year. During university time, all facilities/materials/machines are available in order to help us to design better products and solve problems that the real world is facing. As young designers, it allows us to step into reality and convince companies of the value of our designs.
The lecturers
The best thing about the Design and Technology with QTS course is that lecturers are highly experienced and passionate in the area they teach, which makes learning not only effective but valuable for our future career.
Clubs and Societies
I am volunteering with St John Ambulance society; my role is Basic First Aider, providing treatment to the local community during sports matches and events. I am also enjoying being involved in swimming, mountain walking and kayaking clubs. I love being a member of the international society and campus life events, where I am socializing and meeting people from different backgrounds and learning about unique cultures.
Bangor and the area
It is such a pleasure to live in the environment where you do not only get to know locals well, but you are able to make friends from all over the world. Many marvellous places are located around Bangor; such as Anglesey with its outstanding beaches and forests, but also Caernarfon, Conwy, and Beaumaris. All of this will help to make your stay in Bangor unforgettable, and you can easily visit England, Scotland, and Northern Ireland to see even more and travel easily to other preferred countries during academic breaks.
The best thing about Bangor
Nature is the best thing about living in Bangor, as you can easily reach out to the sea and experience amazing Welsh mountains.
Support from the university
The main priority of Bangor University is to be supportive not only during achieving academic success, but outside of studies as well. Student services have helped me hugely with the questions that I had and when experiencing difficulties. They are always open to provide help with any advice, and aid with financial support for example.
Advice to new international students
If you want to be prepared for the real world (in any profession) and in the same time have a great student experience, then Bangor is for you.
The future
I am planning to continue my studies by doing a master's degree in Business with Consumer Psychology, at Bangor University.