How is University different from School?
You might be wondering how going to University will be different from going to school. The biggest difference is that you'll be more independent. Here's how:
Goodbye Teachers...Hello Lecturers!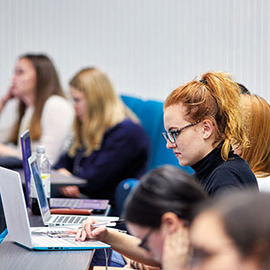 Unlike teachers, university lecturers are there to give you some of the information, point you in the right direction and then leave you to it.
You will then be expected to do some research of your own and find out more about the subject in your own time. This doesn't mean you'll be left alone not knowing where to turn to because there's always someone you can turn to. You'll even have your own Personal Tutor who will be there to offer support and assistance whenever you need it. He or she will be on hand to help you with any problems or questions about your coursework. All you need to do is ask.
More information about Peer Guides and how Bangor can help you adjust to life at University...
Lectures and Library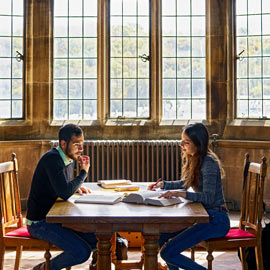 At university, lessons are referred to as lectures.
Time spent in lectures will depend on which course you choose. Science related courses will have lectures, field trips, lab work and workshops while humanities courses (such as English History or Languages) will have some time spent in lectures but also a lot of free time to read more about the subject in your own time.
This is where the Library comes in handy. The library will be the ideal place to read, find out more about your subject and provide the perfect place to work on your essays and coursework in a peaceful, quiet and distraction free environment.
The library staff will show you how everything works and there will be an induction session during your first week.
More information about the Library and how Bangor can help you adjust to life at University...
Handing in your work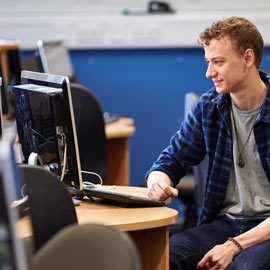 Unlike school, you won't have anyone to remind you that you have an essay due in next week...it'll be up to you to get your work in on time.
You'll need to meet certain deadlines and be aware of the exam time table but again your Personal Tutor and lecturers will be there to help you with any questions or problems you might have.
Your lecturers and tutors will give you feedback on your work and help you develop your skills.
More information about Peer Guides and how Bangor can help you adjust to life at University...
Reading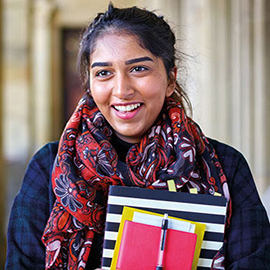 Reading will be an important part of your course. This is how you will learn more about your subject. Making notes will help you recall what you have read and help you develop your ideas.
You'll also need to read your lecture notes to make sure that you've understood everything. If you need to go over anything, your lecturer or Personal Tutor will be happy to help.
At Bangor, all your module details and lecture notes can be found on Blackboard.
More information about Blackboard and how Bangor can help you adjust to life at University...
Freedom
The main difference between school and university is the freedom. You will need to manage your own time, your workload and finances but there will be plenty of support at Bangor to help you do so. The freedom might be a bit overwhelming at first, but you will be surrounded by thousands of other students in the same situation and there will always be someone there to help you if you need it.
Useful resources to help you find out more about what's going on and what you need to know, include Blackboard and My Bangor.
More information about My Bangor and Blackboard can help you adjust to life at University...
Make the most of it!
Your time at university will be a great opportunity for you to stand on your own two feet and learn a lot of new things.
Make the most it and remember that you'll probably be looking for a job at the end of it. Employers will be looking for transferable skills such as excellent communication skills, teamwork, problem solving, meeting and managing deadlines and self-motivation. All of these things can be achieved during your studies at university.
And remember, it's not ALL about work. Your time at university will also be the time when you'll meet friends for life, discover new places and try out new things. Clubs and Societies are all free to join at Bangor and they're a great way to meet people and make memories.
How Bangor can help you adjust...
Once you begin studying at Bangor University, we will provide help and support.
Study Skills Centre
The Study Skills Centre can offer students one-to-one sessions and workshops to make the most out of your learning.
Experienced staff at the The Study Skills Centre can help with study and exam preparation, presentation skills, academic writing, reading and research, referencing, maths and statistics.
My Bangor
Once you're a student you'll be able to log in to the 'My Bangor' site were you will find your timetable, module choices, course handbook, exam timetable, and latest news from the University.
Bangor Employability Award
The Bangor Employability Award (BEA) lets you earn credits for any extra-curricular activities or work experience.
You may use the Bangor Employability Award on your CV.
Completing the BEA is your way of showing employers that you are committed to personal and professional development, a key quality for graduates.
More about the Bangor Employability Award
Your Personal Tutor
Every student at Bangor University has a personal tutor. This means that there's an academic member of staff for you to turn to with any problems.
You will meet with your personal tutor on a regular basis throughout your course.
Your personal tutor is there to advise and support you with all sorts of academic and non-academic problems such as module choices or worries about exams.
Peer Guide Scheme
You will meet your Peer Guide as soon as you arrive here at Bangor.
Peer Guides are second or third year students from your academic course who are on hand to help you with dilemmas like where to go for a good night out to helping you find your lecture room.
You'll see a lot of your Peer Guides during Welcome Week but they'll be on hand as long as you feel the need for a little help.
Find out more about the Peer Guide scheme at Bangor.
Library Service
The Main University library and Deiniol Library will be open 24/7 during term time.
You can browse the library catalogue on-line and reserve any books you require.
Blackboard
Blackboard is the virtual learning environment (VLE) supported across Bangor University. Your course and module details are found on Blackboard and any notes from lectures and learning resources are found there too.
This is also a great place for students to communicate via discussion forums, to talk about lecture and tutorial content, module assignments or current affairs within your field of study.
Five things you should know about being a student
Heading to University soon? Here's Hannah's top 5 things you should know about being a student!