Wrexham based session creates 30 new Dementia Friends
Dr. Catrin Hedd Jones was invited to give a presentation about Dementia to the first year Adult Nursing Students in Wrexham.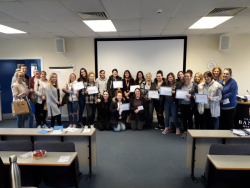 She was accompanied by Doreen MacChristie to join a study day in Wrexham. Doreen received a diagnosis of Alzheimer's four years ago when she was 61 years of age and this was her first Dementia Friends session.
Doreen described how important it is to get on with life after a diagnosis of Dementia. One student thanked Doreen for being brave enough to share her experiences.
This experience is important for student nurses as many of them may not get the opportunity to appreciate the earlier stages of Dementia in their work as often they will only be nursing people at the later stages of dementia.
The next Dementia session will be in Bangor on the 23rd April 2018 co- delivered by Mari Ireland a Community Psychiatric Nurse (CPN) and MSc in Dementia Studies student and Glenda Roberts, who lives with Dementia.
Both will be visiting the School to share the Dementia Friends awareness session and to give the students an opportunity to discuss living with dementia and to promote the ethos that we can all become more Dementia Friendly.
Because of the Wrexham based session, 30 new Dementia Friends completed the cards with actions to be posted onwards to the Alzheimer's Society.
The majority of the actions included getting in touch with someone living with dementia and the following additional comments.
Stop using the word sufferer in terms of dementia.
Continue to try and find ways to support my grandma during the rest of her life with dementia.
Promote independence in people living with Dementia.
Learn more about the condition to help people affected by it.
Be more aware of life with dementia.
Publication date: 16 April 2018