Chinese academic visitor – Dr Qin Li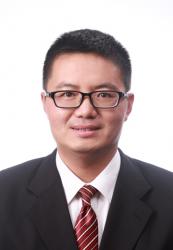 Dr Qin Li is an Associate Professor in the College of Economics and Management, Northeast Forestry University, which is located in the northern city of Harbin, China. He has just returned home after a successful year-long stay in Bangor hosted by the School of Social Sciences and funded by the China Scholarship Council.
Qin Li has qualifications in public administration and he was attracted by Bangor's reputation in social policy and sociology, as well as our current research on civil society. It ties in closely with his own expertise in food safety governance and how it is influenced by agricultural cooperatives and consumer organizations. He used his visit to deepen his knowledge of food policy and food safety policy in the UK through a programme of reading and research on a number of important current themes, such as the role of food policy, the Food Standards Agency (FSA) and the food hygiene rating scheme (FHRS) in the UK. He was particularly interested in the implications of the UK leaving the European Union ('Brexit') for food safety, and the emerging international issue of food safety and climate change. He enjoyed regular discussions with members of the School, especially Professor Howard Davis.
Qin Li's visit also gave him a chance to become familiar with teaching and research in the UK higher education system. He observed lectures, attended the 50th anniversary conference of the School, and exchanged ideas with members of staff. There is much interest in China in the management of higher education and the UK experience of university rankings, the research excellence framework (REF) and teaching quality assurance.
On his departure Qin Li said 'I would like to express heartfelt thanks to the School for your help during my stay in Bangor University. I have learned much from you and it is very helpful to my professional development'.
Publication date: 26 September 2017