Dr Rebecca Thomas appointed as British Academy Postdoctoral Fellow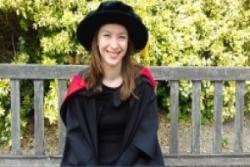 British Academy Postdoctoral Fellow Dr Rebecca Thomas has joined the School of History, Philosophy and Social Sciences from September 2019, working on a three-year project entitled 'Writing the Medieval Welsh World'. Dr Thomas gained her PhD from the University of Cambridge. She is one of 53 early career researchers awarded postdoctoral fellowships by the British Academy this year, and the only one to have been awarded the fellowship in Wales.
Dr Thomas's project will investigate political relations between Wales and the wider world in the Middle Ages. There was a key international dimension to Welsh politics during this period, as interaction with the English fluctuated between co-operation and conflict, the Norse were frequently present as mercenaries in Welsh dynastic warfare, and diplomatic links were established with France and Rome. This project will provide a cohesive and comprehensive consideration of these networks and will investigate their depiction and utilisation by medieval Welsh writers. Investigatinghow these writers presented relations between their rulers and the wider world will uncover the ways in which political legitimacy was constructed in medieval Wales. Was it of greater benefit for rulers to stress their international connections with the Irish and Norse? Or was it more important to cultivate an image based on a national or regional identity? This feeds into the wider question of how ideas of Welsh identity were constructed in the Middle Ages. This project aims to bring a new perspective to the history of medieval Wales, and contribute to wider debates over identity construction and relations between peoples across the Middle Ages, with ramifications for specialists in other regions and periods throughout history.
Publication date: 23 September 2019